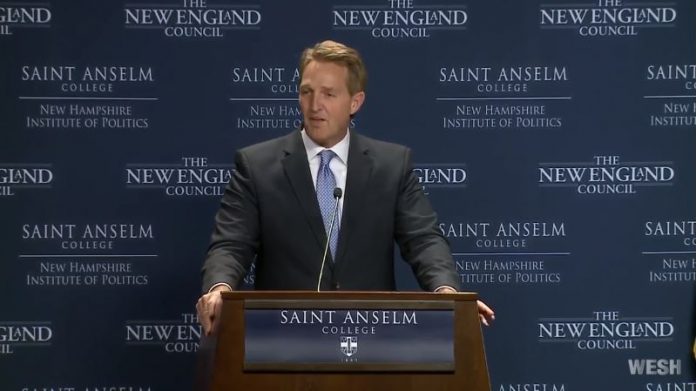 U.S. Senator Jeff Flake of Arizona indicated the possibility that he may launch a primary challenge against President Donald Trump in 2020.
Sen Flake is set to retire after his term in early January of 2019. The Republican senator has been a vocal critic of Pres. Trump. He believes that criticizing the President is his "obligation" as a "matter of duty and conscience."
During his speech at the "Politics and Eggs" event at San Anselm College in New Hampshire, Sen. Flake once again attacked Pres. Trump. He said, "We have a libertine, budget busting President who exudes chaos…and he is the conservative."
He said the Republican Party "losses its grasp on the meaning of basic terms" such as "conservative." He believed that the party have "taken the wrong turn" and is concerned about its future. However, he pointed out that his country is more important. Sen. Flake said, "It's past time to put country before party."
Sen. Flake reiterated his position that Pres. Trump's behavior, nationalistic economic theories, world view, and reflexive impulse to speak falsely, makes him unsuitable to lead the country.
Sen. Flake calls for American restoration
According to the senator, "Such as the power of the President to either build or destroy. The irony should not escape us here that someone whose name became known to us as a builder would have such a penchant for destruction."
Sen. Flake encouraged Americans to come together to repair the damage and create a new politics for common good. "There has to be an American restoration. This will be the obligation of all of us…We will come together and rebuild to shore up the foundations of our institutions that have seen such a gale lately—from that unpredictable storm in the White House…" he said.
Sen. Flake is not ruling out a run for president as independent
When asked about a potential run for the White House, Sen. Flake responded, "It has not been in my plans to run for president." However, he said he have not ruled out the idea.
Additionally, the senator is hoping that someone in the Republican Party will run in the primary to challenge Pres. Trump. He added, "I think that the Republicans want to be reminded what it means to be a traditional, decent Republican."
In his speech, Sen. Flake also delivered a clear message that he is conservative alternative to Pres. Trump. He described himself as "the rarest of species, the American conservative, Americanus, never Trumpus…"
In an interview with AP News, Sen. Flake acknowledged that Pres. Trump is remains popular among the Republican base. However, he suggested the possibility of voters realigning their loyalty if the GOP suffers huge defeat in the midterm election season.
"As soon as he's viewed as one who loses majorities in the House and the Senate, and there's no chance that someone in the 30s can win re-election, people might move on," he said.
Sen. Flake also stated that he is also considering the possibility of running a presidential campaign as an independent. He believes that "there are a lot of other people in the party looking for something else."
"If you end up with Trump on one side, (Bernie) Sanders or (Elizabeth) Warren on the other, there's a huge swath of voters in the middle that make an independent run by somebody a lot more realistic," said Sen. Flake.