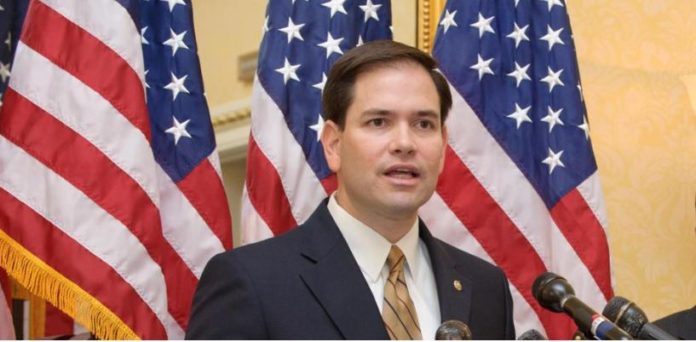 Republican U.S. Senator Marco Rubio of Florida announced his plans to prevent gun violence. His action comes after 17 people died during a school shooting in Parkland, Florida on February 14.
During his speech in the Senate Floor, Rubio encouraged his fellow lawmakers to act swiftly and pass legislation to prevent another school shooting. He implored his colleagues to focus on the shortcoming and vulnerabilities of current laws and policies on guns.
According to him, "There is a widespread support and agreement that we must act now as soon as possible to do everything we can to prevent another tragedy like Parkland from happening anywhere else ever again."
Additionally, Rubio told his colleagues that nobody is in favor of school shootings. "That is a consensus position" even if they differ on views when it comes to how far gun restrictions should be.
Florida school shooting is a result of "massive, multi-systemic failure"
He also pointed out that the school shooting in Parkland "could and should have been prevented." The senator noted that the killer was a "well-known danger" to the community and was a "subject of two separate and specific warnings to law enforcement agencies."
Rubio stressed that the current law was not fully enforced because the killer passed a background check. He was able to purchase ten firearms and killed 17 Floridians. The senator said, "This tragedy is the result of a massive, multi-systemic failure" by federal, state, and local agencies.
Rubio believes his plans will get bipartisan support
Furthermore, Rubio said his plans focus on addressing the flaws and weaknesses of the current gun laws and policies. The senator outlined six measures that he supports or will be introducing, which he believes will get bipartisan support.
First, he supports the Stop School Violence Act introduced by Republican Sen. Orrin Hatch. The bill will provide funding to states to develop and implement trainings, technology, and school threat assessment and crisis intervention teams to prevent school violence.
Second, Rubio plans to introduce a bill on gun violence restraining orders. He believes that families, school administrators, or law enforcement should be able to take away or keep a violent individual from purchasing or owning a gun.
Third, the senator intends to propose changes to the Youth Promise Act to encourage schools to immediately report to law enforcement when they see kids exhibiting violent behaviors. The current law focuses on providing intervention such as mentoring or therapy for troubled youth instead of incarceration.
Fourth, Rubio supports strengthening background checks. He believes that fixing the National Instant Criminal Background Check System (NICS) will encourage every state to report relevant criminal history records to the database. Republican Sen. John Cornyn and Democratic Sen. Chris Murphy introduced the Fix NICS legislation.
Fifth, Rubio also supports the Lie and Try legislation, which will be introduced by Republican Sen. Pat Toomey and Democratic Sen. Chris Coons.  The bill will require the FBI to inform states about someone who fails a background check and is not allowed to buy a gun. "We must begin to prosecute the purchase of gun by people prohibited from doing so," said Rubio
Sixth, the senator plans to introduce a legislation that will target "straw purchases," when a person buys a gun for someone else who couldn't pass a background check.
Rubio is open to additional reforms
Take note that Rubio's plans do not include raising the minimum age to buy a gun. The senator expressed openness to considering looking into the age restrictions to buy semi-automatic rifles.
The senator noted that such ideas "do not enjoy widespread support in Congress that the other ideas I have said do."
Last week, Florida Gov. Rick Scott announced a major action plan to prevent gun violence. The governor's plan included requiring all individuals purchasing guns to be 21 or older.  The National Rifle Association (NRA) opposes the plan.