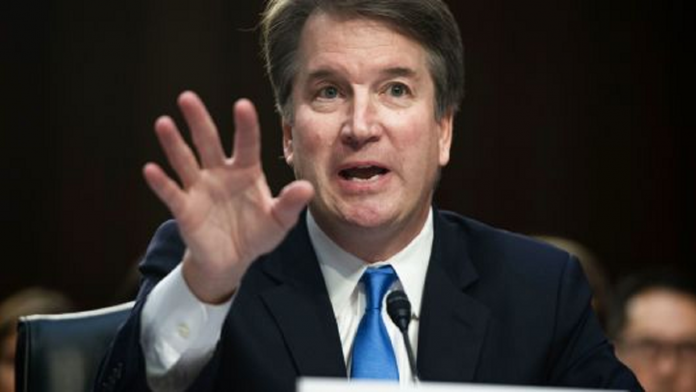 A third woman submitted her allegations of sexual misconduct against Supreme Court nominee Brett Kavanaugh to the Senate Judiciary Committee. Kavanaugh denied the latest accusations against him.
Attorney Michael Avenatti identified that new accuser as Julie Swetnick, who holds multiple government security clearances including at the U.S. Department of Treasury (DOT), U.S. Mint (USM), and Internal Revenue Service (IRS).
Avenatti said Swetnick is "100 percent credible" and willing to take a lie detector test. He added that his client brave, courageous, and honest just like Dr. Christine Blasey Ford, the first woman who accused Kavanaugh of sexual misconduct. She is set to testify at the Senate hearing on Thursday.
Swetnick's allegations against Brett Kavanaugh and Mark Judge
In her affidavit, Swetnick claimed that she met Kavanaugh and his friend Mark Judge in approximately 1980-1981 at a house party in Washington D.C. After that, she attended more than ten house parties where both men were present from 1981 to 1983.
According to her, she observed Kavanaugh and Judge engaged in excessive drinking, highly inappropriate and overly aggressive conduct towards girls.
"I witnessed Brett Kavanaugh consistently engage in excessive drinking and inappropriate contact of a sexual nature with women during the early 1980s," wrote Swetnick.
Additionally, Swetnick alleged that both men, and others spiked the punch at house parties, which caused girls to "lose their inhibitions and their ability to say no."
Furthermore, she claimed that she witnessed "gang or train rapes" and she  was a victim in one of these incidents where Kavanaugh and Judge were present. "During the incident, I was incapacitated without my consent and unable to fight off the boys raping me," wrote Swetnick.
Kavanaugh calls the allegations "ridiculous" and from the "Twilight Zone"
 In a statement, the Supreme Court nominee called Swetnick's allegations "ridiculous and from the Twilight Zone." He added, "I don't know who this is and this never happened."
On the other hand, Barbara Van Gelder, the lawyer representing Judge said her client "vehemently denies the allegations contained the Swetnick affidavit."