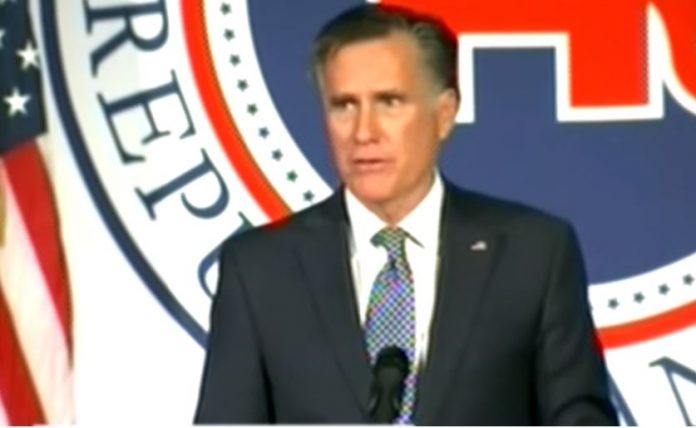 President Donald Trump hit back at Senator Mitt Romney and called him a "pompous ass" in response to the Republican lawmaker's criticism of him for publicly encouraging China and Ukraine to investigate former Vice President Joe Biden and his son.
On Friday, Romney condemned Trump's move asking foreign powers to investigate his political opponent in the middle of a Democratic nomination process. He said it was "wrong and appalling."
In a tweet on Saturday, Trump reiterated that his July 25 telephone conversation with Ukraine President Volodymyr Zelensky was "congenial and very appropriate."
His call with the Ukrainian leader is the focus of an impeachment inquiry, ignited by a whistleblower complaint. The whistleblower alleged that Trump "sought to pressure the Ukrainian leader to take actions to help" in his reelection in 2020.
Trump also asserted that his public request to China to conduct an inquiry into the former Vice President and his son "pertained to corruption, not politics." He also mocked Romney for losing the 2012 presidential election to former President Barack Obama.
Somebody please wake up Mitt Romney and tell him that my conversation with the Ukrainian President was a congenial and very appropriate one, and my statement on China pertained to corruption, not politics. If Mitt worked this hard on Obama, he could have won. Sadly, he choked!

— Donald J. Trump (@realDonaldTrump) October 5, 2019
Mitt Romney never knew how to win. He is a pompous "ass" who has been fighting me from the beginning, except when he begged me for my endorsement for his Senate run (I gave it to him), and when he begged me to be Secretary of State (I didn't give it to him). He is so bad for R's!

— Donald J. Trump (@realDonaldTrump) October 5, 2019
In another tweet, the President called Romney a "fool" and suggested that Utah voters are now thinking that made a "big mistake" when they elected the lawmaker.
I'm hearing that the Great People of Utah are considering their vote for their Pompous Senator, Mitt Romney, to be a big mistake. I agree! He is a fool who is playing right into the hands of the Do Nothing Democrats! #IMPEACHMITTROMNEY

— Donald J. Trump (@realDonaldTrump) October 5, 2019
Romney was not the only Republican lawmaker who criticized the President for requesting foreign governments investigate his political opponent. Sen. Ben Sasse of Nebraska, said,"Americans don't look to Chinese commies for the truth" while Rep. Will Hurd commented that it was "terrible."