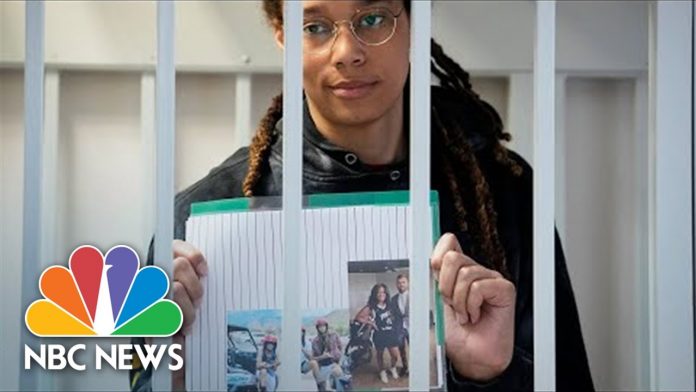 WNBA star Brittney Griner has been in prison for almost six months after her February arrest at a Moscow airport. On Thursday the two-time gold medalist was given a harsh sentence of 9 and a half years of "drug possession and drug smuggling with criminal intent.'
The judge fined her 1 million rubles, roughly $16,300 U.S. dollars, in addition to the sentence.
Griner was returning to Russia to play for the UMMC Ekaterinburg basketball team for the third time. The basketball superstar star had been playing for the Russians during the WNBA off-seasons. Unfortunately, this trip came just a week before Russia invaded Ukraine. 
Since her arrest a "Do Not Travel" advisory has been issued for Russia. In May, the US State Department classified her detention as a "wrongful detainment." 
WNBA star pleads guilty
It took 6 months for Griner's case to make its way through Russia's legal system. And for part of that time, she was not allowed contact with the US consul.
Griner, pleaded guilty, requesting leniency for unintentionally violating Russian law. She told the judge, at the time, she accidently brought vape cartridges containing less than one gram of cannabis oil into Russia.
Customs officials allegedly found .702 grams of the marijuana content in her luggage. Her attorneys argued this did not meet the "significant amount" threshold under Russian law.
And emphasized the cannabis oil was less than the weight of a pen cap or a stick of gum.
The court was also presented with a letter from Griner's American doctor. It explained Griner had been prescribed medical marijuana. And that she suffered with "chronic pain from past basketball injuries."
 Griner's attorneys also called the Russian team captain and director where the WNBA star is a stand-out performer. Both testified on her behalf describing her as exceptional both on and off the court. 
The day before her sentencing Griner made another emotional appeal for leniency. And apologized to the court for the "honest mistake" of bringing the cannabis oil into Russia.
An emotional Griner apologized to her family, her teammates and her Russian club for "the embarrassment I brought on them."
"I never meant to hurt anybody," she said. "I never meant to put in jeopardy the Russian population. I never meant to break any laws here. I made an honest mistake and I hope that, in your ruling, that it doesn't end my life here."
"I know that everybody keeps talking about political pawns and politics, but I hope that is far from this courtroom. I want to say again that I had no intent of breaking Russian laws. I had no intent. I did not conspire or plan to commit this crime, "she added.
Time for a trade?
At the highest levels of US-Russia diplomacy a deal is being brokered to secure the release of the WNBA star.
Outside the courthouse, Elizabeth Rood, Deputy Chief of Mission at the U.S. Embassy in Moscow, called the excessive sentence a "miscarriage of justice."
President Biden described Griner's sentence as "unacceptable" and pledging to "work tirelessly and pursue every possible avenue" to bring her home.
"I call on Russia to release her immediately so she can be with her wife, loved ones, friends, and teammates," Biden added.
The guilty verdict and a long sentence were expected by Russian experts and diplomats. These outcomes give Russia the most leverage with the Biden administration. And Biden is facing mounting pressure to bring the basketball star home to her wife and family.
Last Friday, Secretary of State Antony Blinken urged his Russian counterpart Sergey Lavrov to accept the "substantial proposal" submitted by the US trade Griner and Paul Whelan for a Russian arms dealer with high-level military and government connections. 
Viktor Bout is currently serving a 25-year sentence in an Illinois federal prison. He was arrested in Thailand in 2008 for selling weapons to terrorists conspiring to kill Americans. He was extradited to the US in 2010. And his sentence started in 2011.
Russian legal expert Jamison Firestone said prior to Griner's conviction, ""They are going to give her a lot of time. Then they are going to trade her."