Federal regulators are clamping down manufacturers, distributors, and retailers using kid-friendly packaging to advertise and sell e-liquids for e-cigarettes.
On Tuesday, the U.S. Food and Drug Administration (FDA) and Federal Trade Commission (FTC) sent 13 warning letters to 13 companies regarding the matter.
In the letters, the FDA and FTC warned the companies for selling e-liquids with false and misleading labeling or advertising that imitate children's beverage or food products.
The federal regulators emphasized that the companies are putting children at risk with their misbranded e-liquids. It is a violation of the Federal Food, Drug, and Cosmetic Act. They also cited the companies for illegally selling the products to minors.
E-liquids are harmful to young children
E-liquids are dangerous to young children because their contain nicotine. Young children who ingest liquid nicotine can experience severe harms. They can die from coma, cardiac arrest, respiratory arrest, and even seizure.
Some examples of the mislabeled e-liquid products include:
One Mad Hit Juice Box—resembles the Tree Top brand apple juice boxes
Vape Heads Sour Smurf Sauce—resembles War Heads candy
V'Nilla Cookies & Milk—resembles Nilla Wafer and Golden Oreo cookies
Whip'd Strawberry—resembles Reddi-wip dairy whipped topping
Twirly Pop—resembles a Unicorn Pop lollipop and ships with one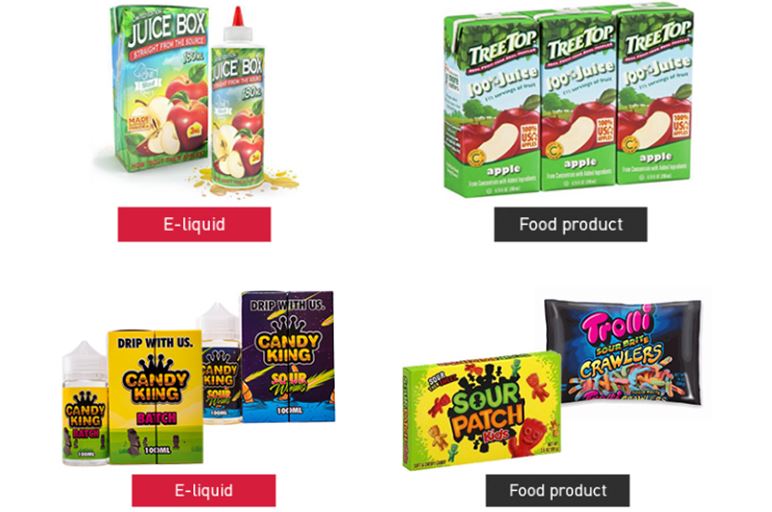 In a statement, FDA Commisioner Scott Gottlieb, M.D., said, "No child should be using any tobacco product, and no tobacco products should be marketed in a way that endangers kids… Looking at these side-to-side comparisons is alarming. It is easy to see how a child could confuse these e-liquid products for something they believe they've consumed before – like a juice box."
"We'll continue to take action against those who sell tobacco products to youth and market products in this egregious fashion," he added.
On the other hand, FTC Acting Chairman Maureen Ohlhausen, said, "Protecting young children from unwarranted health and safety risks is one of our highest priorities…These letters make clear that marketing methods that put kids at risk of nicotine poisoning are unacceptable."
The FDA and FTC told the companies to review their marketing and packaging. They encouraged them to take immediate actions to protect consumers, particularly young children. The companies have 15 business days to respond with their corrective actions.