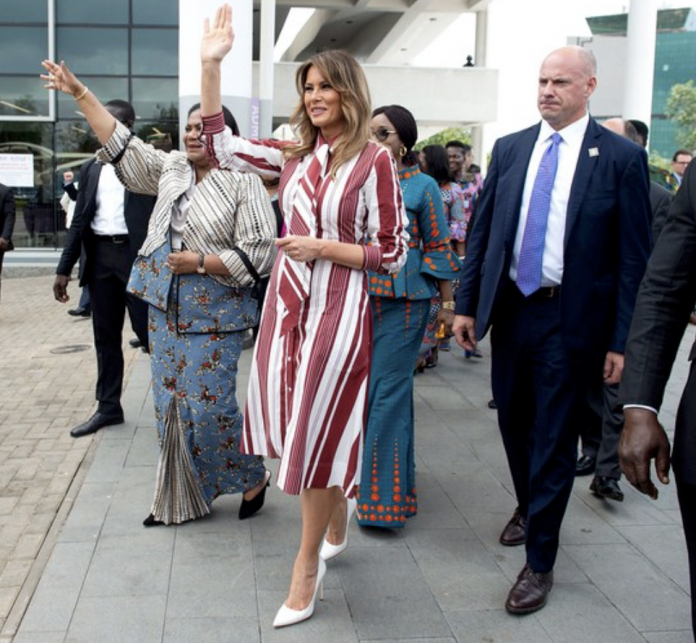 On Wednesday, First Lady Melania Trump visited Ghana as a part of her solo international trip, reports The Hill.
An Overview of the First Lady's Time in Ghana
During Trump's time in Ghana, she visited a warehouse which formerly existed to house slaves. The facility is better known as the 17th Century castle; the original purpose of the castle's creation served to manage the trading of gold and timber. Towards the end of the first lady's visit, she placed a wreath before the castle.
After her time at the 17th Century Castle, Trump shared the following public statements:
"I will never forget (the) incredible experience and the stories I heard. The dungeons that I saw, it's really something that people should see and experience."
The first lady also referred to the warehouse as "emotional" and "a very special place."
More on the First Lady
Trump's trip to Ghana is just one of the impacts she is having as first lady. In 2018 alone, she has visited Arizona immigration facilities and spoken out against cyberbullying. In May, Trump announced the inception of her 'Be Best' campaign. Children and the issues which they face in modern America are the central focus points of the first lady's campaign.
Despite Trump's work and activism as first lady, she has faced more than her fair share of critics. Some of Trump's detractors have argued that her anti-cyberbullying initiatives contrast with the words and behaviors of her husband, President Trump. Nevertheless, the first lady maintains that she will continue to proceed with the work she believes in.
Stephanie Grisham, Trump's communications director, has also stated that the president is supportive of the first lady's work and initiatives:
"She is aware of the criticism, but it will not deter her from doing what she feels is right. The president is proud of her commitment to children and encourages her in all that she does."
Ghana is one of several places which the first lady will visit during her solo international trip. Trump is also scheduled to spend time in Kenya, Egypt, and Malawi. Additional updates regarding her trip will follow as new developments arise.