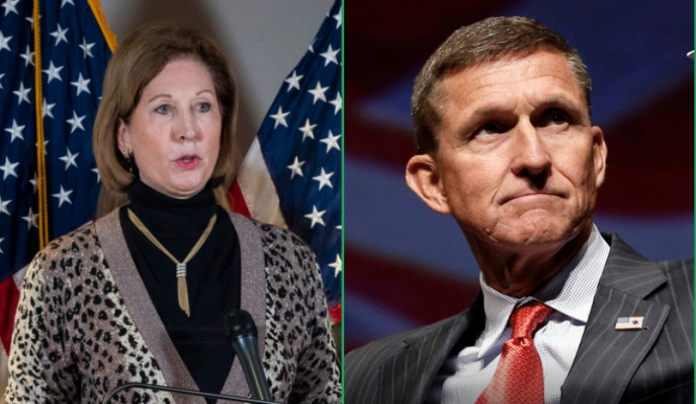 Twitter permanently suspended the accounts of Michael Flynn, who called for martial law to redo the election,  Sidney Powell, the conspiracy-theorist lawyer who previously worked with President Donald Trump's campaign, and other high-profile supporters of the president.
The suspension was part of a purge of QAnon accounts following the U.S. Capitol insurrection by pro-Trump mobs.
It also follows Twitter's decision to suspend Trump's Twitter account permanently due to the social media company's fear that the president will use its platform to incite further violence. The company previously warned him of risking a permanent ban if he continues to violate the company's policies.
Twitter also designated the far-right QAnon movement as a coordinated harmful activity. Discussions about the movement have been limited from the platform's search functions.
Twitter vowed to take strong enforcement action on accounts that incite violence
The ban is among the biggest moves implemented by Twitter as part of its efforts to address misinformation and calls for violence.
In a statement, a Twitter spokesperson explained, "The accounts have been suspended in line with our policy on Coordinated Harmful Activity. We've been clear that we will take strong enforcement action on behavior that has the potential to lead to offline harm, and given the renewed potential for violence surrounding this type of behavior in the coming days, we will permanently suspend accounts that are solely dedicated to sharing QAnon content."
Over the past few weeks, both Flynn and Powell met with the outgoing commander-in-chief and discussed their efforts to overturn the results of the 2020 presidential elections.
Flynn, a retired Army lieutenant general and Pres. Trump's former national security advisor. He pleaded guilty to lying to agents of the Federal Bureau of Investigation (FBI) about his communications with Russia's ambassador to the U.S. before Trump was sworn into office. The president pardoned him in November.
Powell is helping Rudy Giuliani, the president's personal lawyer and ardent supporter, to overturn the results of election. She filed lawsuits claiming election fraud in battleground states.
Powell made a series of claims about supposed election fraud. However, none of her claims have been accepted by any court as legitimate.
Zuckerberg will not allow Trump to use Facebook's platforms to incite violent uprising
Facebook and Instagram also banned Trump's account following the U.S. Capitol insurrection.
In a blog post, Facebook CEO Mark Zuckerberg wrote, " Over the last several years, we have allowed President Trump to use our platform consistent with our own rules, at times removing content or labeling his posts when they violate our policies. We did this because we believe that the public has a right to the broadest possible access to political speech, even controversial speech. But the current context is now fundamentally different, involving use of our platform to incite violent insurrection against a democratically elected government."
"We believe the risks of allowing the President to continue to use our service during this period are simply too great. Therefore, we are extending the block we have placed on his Facebook and Instagram accounts indefinitely and for at least the next two weeks until the peaceful transition of power is complete," said Zuckerberg.
Have a story you want USA Herald to cover? Submit a tip here and if we think it's newsworthy, we'll follow up on it.
Want to contribute a story? We also accept article submissions – check out our writer's guidelines here.