Billionaire investor Warren Buffett has been very vocal that he doesn't like Bitcoin (BTC), which currently attracting some billionaires and institutional investors. The cryptocurrency surged from $17,500 on December 11 to an all-time high of $29,500 on 31 December 31,  a 66% increase in 20 days. 
Many Bitcoin investors are bullish that the cryptocurrency will continue to rally. In fact, an increasing number of investors prefer the cryptocurrency over gold as a hedge against inflation. Their belief will not sit well with Buffet, who also dislikes gold.
Warren Buffett called Bitcoin a "rat poison" that will result in a "bad ending"
Buffett, the Chairman and CEO of the multinational conglomerate Berkshire Hathaway (NYSE: BRK.A) (NYSE: BRK.B) is worth a striking $87.5 billion. He called Bitcoin "probably a rat poison squared" in an interview with CNBC in 2018, and advised investors to not invest in the cryptocurrency.
"In terms of cryptocurrencies, generally, I can say with almost certainty that they will come to a bad ending," the chairman and CEO of Berkshire Hathaway said then. "If I could buy a five-year put on every one of the cryptocurrencies, I'd be glad to do it but I would never short a dime's worth," Buffett said. 
The legendary investor dislikes Bitcoin because he said it creates nothing just like gold. It is a non-productive asset and its value is increasing because of excitement and speculations. Those who invest in it are counting on others who are more excited and are willing to acquire it at a higher price.
Buffett said,  "When you're buying non-productive assets all you're counting on is the next person is going to pay you more because they're even more excited about another next person coming along. Bitcoin itself is creating no value at all." 
However, many other billionaires and investors disagree with Buffett when it comes to his perspective about Bitcoin. 
Other billionaires do not agree with Buffett
Ricardo Salinas Pliego, the second richest man in Mexico said that Bitcoin is his best investment.  Chamath Palihapitiya, the billionaire venture capitalist and CEO of Social Capital is expecting the cryptocurrency to reach an astonishing $1 million per coin in the next two decades.
Another billionaire, Michael Novogratz, the founder of Galaxy Digital, said Bitcoin is a "digital gold" and expected its value to keep going higher.
As of this writing, Bitcoin is trading at more than $31,000 based on data from Coindesk.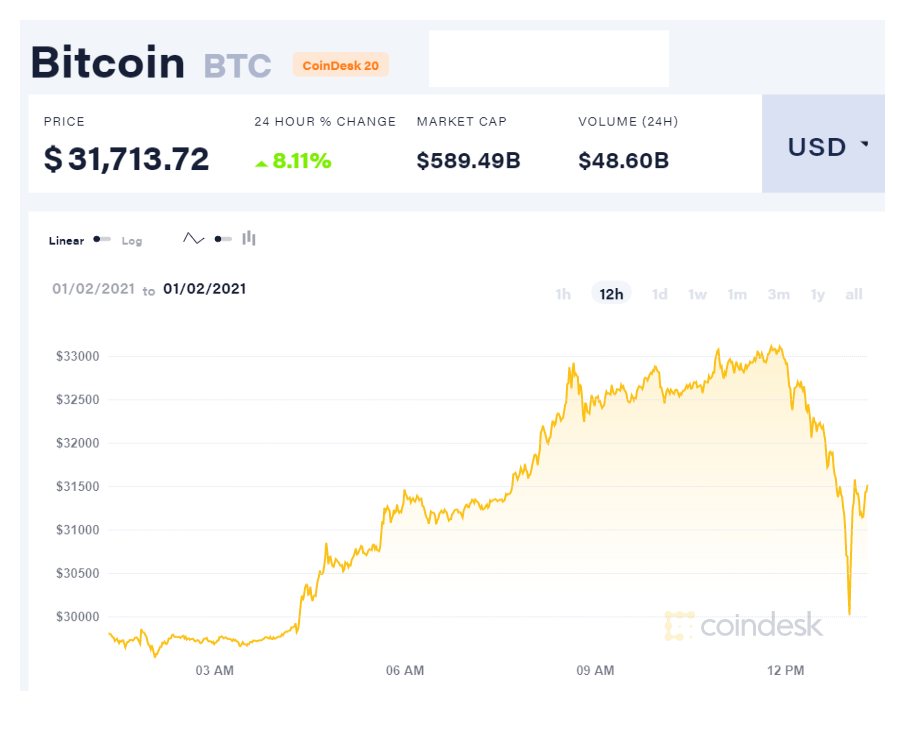 Buffett's Berkshire Hathaway is far more valuable than the cryptocurrency. Berkshire Hathaway's Class A shares' closing price on December 31 is $347,815 based on data from Google Finance.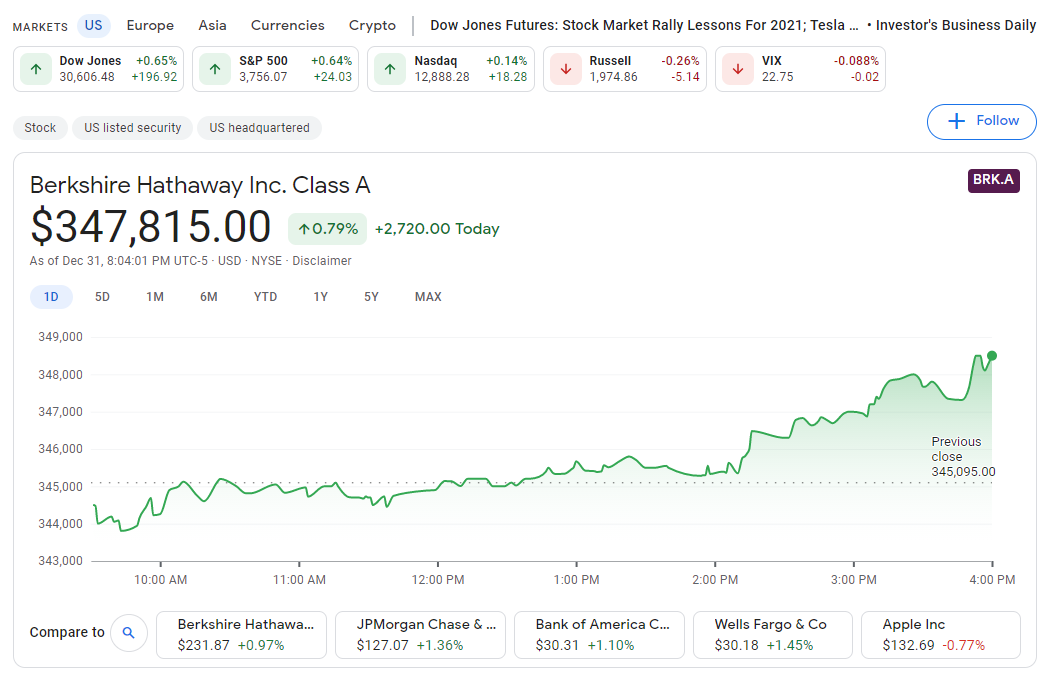 The big difference between the two–just like what Buffett said, Bitcoin is not producing any product. Its value is rising primarily because of investors' speculation. In other words, it is a risky investment.
On the other hand, Berkshire Hathaway's different companies produce different products. Many investors consider it as a great long-term investment because of many reasons. One of them is the fact that it is managed by the legendary investor itself.
With the 300% increase in price over the last 12 months, Bitcoin may have attracted some billionaires and big financial institutions such as Skybridge, Ruffer Investment Management, and many others that invested hundreds of millions of dollars. However, it is highly-likely that Buffett will not join the bandwagon and will all the more stay away from it. 
Have a story you want USA Herald to cover? Submit a tip here and if we think it's newsworthy, we'll follow up on it.
Want to contribute a story? We also accept article submissions – check out our writer's guidelines here.