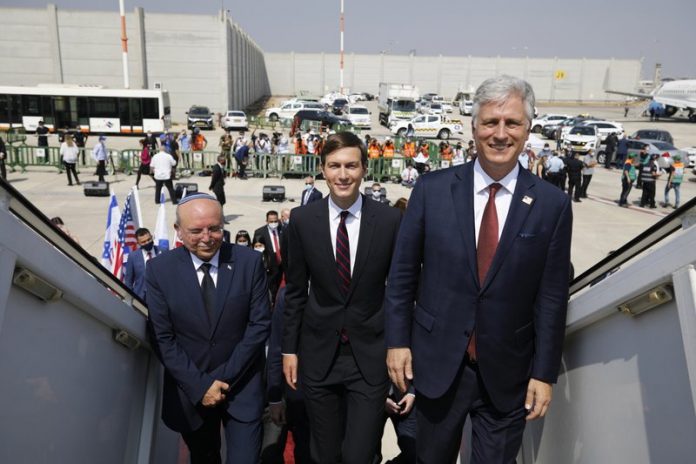 A landmark Israel-UAS flight has landed in Abu Dhabi. The flight carried White House Special Advisor and President Trump's son-in-law Jared Kushner, Israeli Prime Minister Benjamin Netanyahu, Israeli National Security Advisor Meir Ben-Shabbat, U.S. National Security Advisor Robert O'Brien, reporters and other Israeli and American officials. Netanyahu called the trip a "historic blessing". 
"The Middle East is filled with brillant, industrious, tolerant and innovative people and the future belongs to them," said Kushner during a press conference. 
The flight comes in the wake of an earlier August peace agreement between the UAE and Israel, making the UAE the first Arab nation in the Gulf to have full diplomatic ties to the nation of Israel and one of three Arab nations worldwide to have current normalized relations with Israel. 
Kushner called the flight, "a manifestation of what is possible in the Middle East." Officials from all countries involved seemed to be hopeful that the flight was the beginning of peace in the Middle East. 
"[I am] hopeful this will be the first step in creating momentum," said U.S. National Security Advisor Robert O'Brien. 
The flight was also the first time that Saudi Arabia has allowed an Israeli commercial aircraft to use its airspace. Kushner called the Saudi Arabian government "gracious" to allow the flight to fly in their sky. 
The new relationship between Israel and the UAE can potentially change the geopolitical climate in the Middle East by creating new tourism, technology and agricultural opportunities for the two countries.  
Kushner said that those who are opposed to the peace agreements between Israel and UAE "have a long track record of failure and trapping their own people in misery and poverty". Kushner praised his father-in-law, President Donald Trump, for actively pursuing peace in the region. 
Israel is pursuing a relationship with the UAE in an effort to create alliances and partnerships with Arab countries in the region. Kushner said their strategy is to make friends with the UAE, with the hopes that a friendly relationship with Palestine will come from that. 
"…believing that peace for peace will bring about a big turnaround, and that the Arab people would be able to accept the State of Israel," said Netanyahu.
————————————————–
Have a story you want USA Herald to cover? Submit a tip here and if we think it's newsworthy, we'll follow up on it.
Want guaranteed coverage? We also offer contract journalism here.  Just be sure you're comfortable giving up editorial control because our journalists are dogged and will follow the story through to the conclusion. The story will be published to our exacting standards, without regard for your preferred slant.
Want to contribute a story? We also accept article submissions — check out our writer's guidelines here.