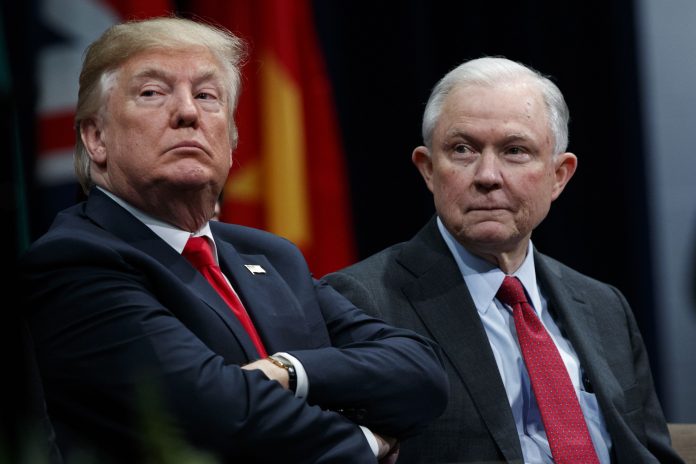 President Donald Trump essentially fired Attorney General Jeff Sessions on Wednesday, a day after the midterm elections.
An administration official told CNN that Trump did not call Sessions regarding his firing. White House Chief of Staff John Kelly informed the attorney general regarding the matter.
Sessions said Trump requested his resignation. For months, the President repeatedly criticized his attorney general for recusing himself from the Mueller investigation into the alleged Russia's interference in the 2016 presidential election and possible collusion with the Trump campaign.
In fact, Trump told reporters in September, "I'm disappointed in the attorney general for many reasons." In a separate interview with The Hill at the time, the President said, "I don't have an attorney general. It's very sad." He went on to say that he wasn't happy with Sessions because of his recusal from the Muller probe into Russia's election meddling and his performance on numerous issues."
Sessions' departure was not surprising since Trump was vocal about their deteriorating relationship. Republicans widely expected the President's firing of the attorney general.
In his resignation letter, Sessions wrote, "Since the day I was honored to be sworn in as attorney general of the United States, I came to work at the Department of Justice every day determined to do my duty and serve my country. I have done so to the best of my ability to support the fundamental legal processes that are the foundation of justice."
In a tweet on Wednesday, Trump thanked Sessions for his service and announced that he appointed Matthew Whitaker as Acting Attorney General. Whitaker is Sessions' chief of staff.
….We thank Attorney General Jeff Sessions for his service, and wish him well! A permanent replacement will be nominated at a later date.

— Donald J. Trump (@realDonaldTrump) November 7, 2018
Democrats demand that Whitaker recuse himself from Mueller probe 
As Acting Attorney General, Whitaker is now in-charge of all  matters in Department of Justice (DOJ) including Mueller's probe into Russia.
Democratic leaders, Congresswoman Nancy Pelosi and Senator Chuck Schumer called on Whitaker to recuse himself from supervising the Mueller probe. They tweeted the following statements:
Given his record of threats to undermine & weaken the Russia investigation, Matthew Whitaker should recuse himself from any involvement in Mueller's investigation. Congress must take immediate action to protect the rule of law and integrity of the investigation. #FollowTheFacts

— Nancy Pelosi (@NancyPelosi) November 7, 2018
Given his previous comments advocating defunding and imposing limitations on the Mueller investigation, Mr. Whitaker should recuse himself from its oversight for the duration of his time as acting attorney general.

— Chuck Schumer (@SenSchumer) November 7, 2018