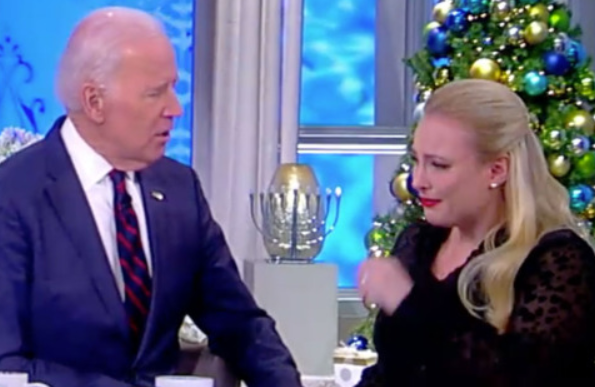 On Wednesday, Democrat and former Vice President Joe Biden provided emotional support to Republican Meghan McCain on 'The View,' as reported by TODAY.
Everything You Need to Know About the Joe Biden/Meghan McCain Conversation
Biden and McCain's exchange centered around remaining hopeful in the battle against cancer. The former Vice President's son, Beau Biden passed away in 2015 as a result of glioblastoma, an unusual, yet deadly form of brain cancer.
Coincidentally, McCain's father also has glioblastoma. Shortly after the women of 'The View' welcomed Biden to the show as a guest, McCain informed Biden of her struggles with her father's diagnosis:
"I couldn't get through your book [but] I tried. I think about Beau almost every day, and I was told that this doesn't get easier, but you cultivate the tools to work with this."
After hearing this, Biden sat next to McCain and reminded her of the impact her father had on his son Beau:
"You may remember when you were a little kid, your dad took care of my Beau. Your dad … became friends with Beau. And Beau talked about your dad's courage — not about illness — but about his courage."
Biden then emphasized the importance of hope and his friendship with John McCain:
"So there is hope. And if anybody can make it, (it's) your dad. [Your] dad is one of my best friends. We were like two brothers who were somehow raised by different fathers because of our different points of views. Even when your dad got mad at me and said I should get the hell off the ticket!"
Shortly afterwards, John McCain tweeted out his appreciation to Biden for comforting his daughter:
Thank you @JoeBiden & the entire Biden family for serving as an example & source of strength for my own family. https://t.co/qmmw5rjdUj

— John McCain (@SenJohnMcCain) December 13, 2017
Meghan McCain also thanked the former Vice President:
There are no words I have to convey my immense gratitude to @JoeBiden and his family – your strength, hope and fortitude are an inspiration to me and so many others daily. Thank you for your kindness today and sharing your story with us @TheView pic.twitter.com/LYmAD5HaTq

— Meghan McCain (@MeghanMcCain) December 13, 2017
What Did America Think of Biden and McCain's Conversation?
Americans across the nation lauded the exchange between Biden and McCain, especially in light of their political differences. Furthermore, viewers affirmed that the aforesaid conversation exemplifies the best of America.
In many way, the nation has become deeply divided. Many Americans have cited partisanship and politics as highly contributing factors to the divide. However, the exchange between Biden and McCain provided hope to countless people. This is more than apparent in the plethora of supportive tweets praising the emotional support Biden provided to McCain:
Beautiful moment on @TheView today, between @JoeBiden & @MeghanMcCain, both of whom share having someone they love with same difficult diagnosis.
Empathy, compassion, solidaridity, humanity….are not partisan or generational.❤️❤️❤️#Hope https://t.co/nMdEUPwhiN

— Ana Navarro (@ananavarro) December 13, 2017
Joe Biden exudes love, compassion and empathy. This is what a Real man looks like.

— tiredoffighting (@sufferingdfools) December 14, 2017
Thank you @JoeBiden. You are a good man.

— Ben Domenech (@bdomenech) December 13, 2017
Your talk with @JoeBiden and the rest of the cast of @theview was the most moving I have ever seen. As much as you lamented about being emotional, it was appropriate. And you are strong and powerful, just like your Dad, @SenJohnMcCain. As #Biden said, #HOPE is what we need🙏🏽. https://t.co/js9mLsQPn0

— Marlee Matlin (@MarleeMatlin) December 13, 2017
Real leaders show compassion.

Real leaders give hope.

Real leaders don't wield strength, they give strength.

Joe Biden is an example of true leadership.@JoeBiden is a real leader. pic.twitter.com/2gxR6ert6I

— Red T Raccoon (@RedTRaccoon) December 13, 2017