The more insidious side of the plan seems to be the intent to impose a 'Greek Tax' on individual students to supplement the salaries of new and current FSU employees and hire even more bureaucrats.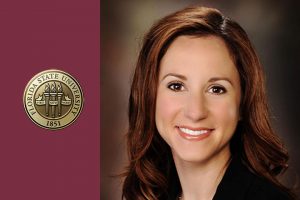 Now meet Dr. Amy Hecht, the newly arrived Vice President or Student Affairs who has crafted this campaign.  Dr. Hecht appears to be a disciple of Chicago Mayor Rahm Emanuel who once said "You must never let a serious crisis go to waste…. What I mean by that it's an opportunity to do things you could not do before."
The serious crisis here of course is the tragic and pointless death of student Andrew Coffey who succumbed after after a group of his fraternity brothers gathered and engaged in binge drinking. Coffey registered over a .40 alcohol blood level after his death. Such activity can neither be accepted nor ignored and it has not been. Every member of the FSU community genuinely mourns the tragic death of Andrew Coffey.
After Coffee died, FSU President John Thrasher issued and immediate, indefinite, campus-wide suspension of Greek Life. He expressed his wish to see students "change the culture" to prevent hazing and drug abuse and sexual misconduct.