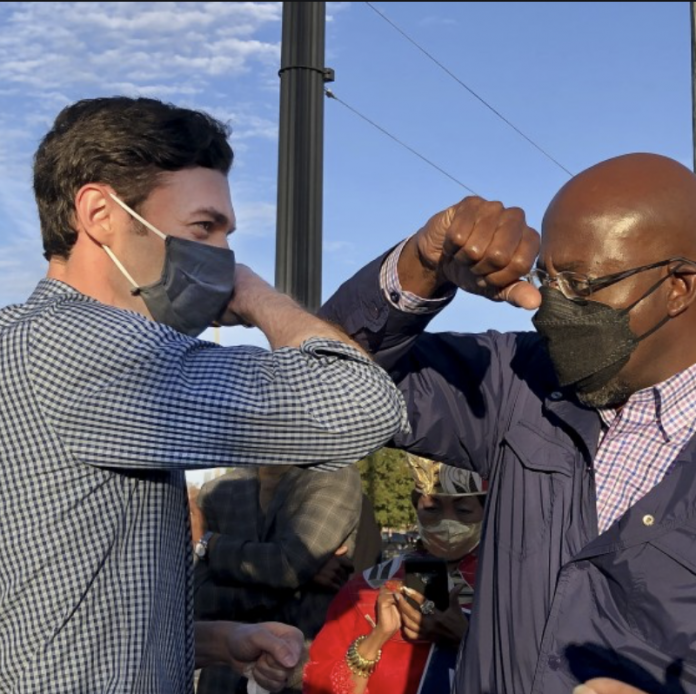 In one week from today, Georgians will have a final chance to vote in the runoff elections currently happening in the state. Early voting ends this Thursday; however, more than two million Georgia residents have already cast their ballots in the Senate races.
Sens. David Perdue and Kelly Loeffler are on the ground, touring across Georgia, and making their cases to win these runoffs. This manner of campaigning is known as "direct voter contact" and also absolutely paramount during this final stage of the runoffs.
Georgia, we are the last line of defense against this radical, socialist agenda.

We must #HoldTheLine. VOTE. https://t.co/Y1KedicoBn #GASen #gapol pic.twitter.com/ooA1gKLdwH

— David Perdue (@Perduesenate) December 29, 2020
Democrats Jon Ossoff and Raphael Warnock, despite outraising Perdue and Loeffler, are now struggling with funds to continue their campaigns. Both Georgia Democrats are therefore worried about the money that top GOP organizations are tossing into the race.
The memo that tells it all
Earlier this week, campaign managers for both Ossoff and Warnock released a critical memo. This memo admits that "fundraising revenue" is continuing to drop for both Georgia Democrats. Likewise, the campaign managers admit that direct voter contact is an area that Ossoff and Warnock are struggling with, due to money problems.
This is who Georgia Democrats Raphael Warnock and Jon Ossoff had headline their event today.

Will they denounce this disgusting individual? Will @TIAreports update her story to reflect how vile this is? Does the @ajc feel they should be elevating repulsive individuals like this? https://t.co/gcIBBZeRU3 pic.twitter.com/RU7f8C78y3

— Nathan Brand (@NathanBrandWA) December 29, 2020
Perdue and Loeffler, on the other hand, are not having issues with directly interacting with Georgians. Both Georgia Republicans are engaging in bus tours, speaking events, and talking to residents of their state.
Ossoff and Warnock's campaign managers admit that this is critical during the current point in Georgia's runoffs; they also warn that the Democrats may not be able to compete with the GOP opponents via direct voter contact if the funding situations don't change.
A loss of faith from top Democrats
Amid the funding issues that Ossoff and Warnock are wrestling with, there is also news that top Democrats, such as Senate Minority Leader Chuck Schumer, are losing confidence.
An anonymous source claims that Schumer has ceased meeting with donors to get funding for Ossoff and Warnock's senatorial campaigns; however, a spokesperson for the Democrat denies these allegations.
Child abuse occurred at your summer camp, @ReverendWarnock.

You've refused to tell Georgians what happened at your summer camp and what you did to stop it. And now a victim has come forward.

This is disgusting — and completely disqualifying. https://t.co/4BH1jZDMna

— Kelly Loeffler (@KLoeffler) December 29, 2020
Perdue continues to go after Ossoff for the latter's ties to the communist Chinese government. Meanwhile, Loeffler is calling for Warnock to answer for the multiple abuse allegations that he's facing.
Have a story you want USA Herald to cover? Submit a tip here and if we think it's newsworthy, we'll follow up on it.
Want to contribute a story? We also accept article submissions – check out our writer's guidelines here.