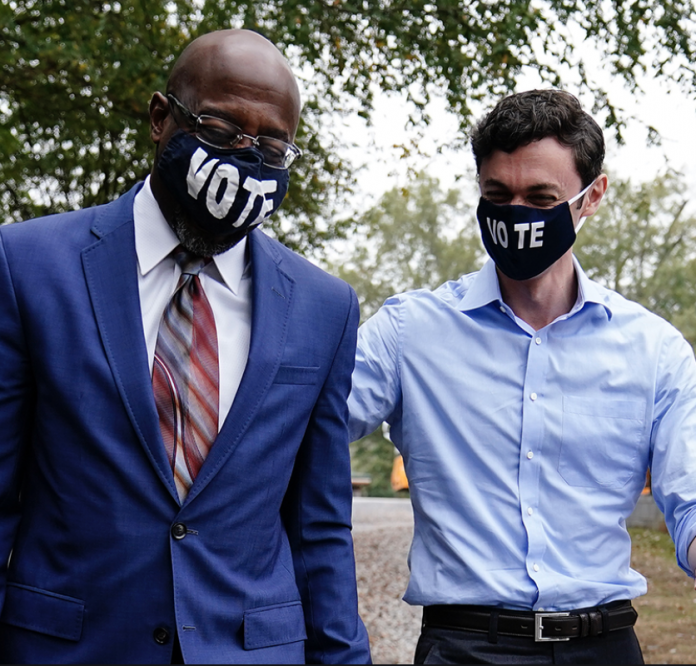 In Georgia, Democrats Jon Ossoff and Raphael Warnock are looking to unseat Republican Senators David Perdue and Kelly Loeffler. The Georgia run-offs are unlikely to be a landslide for either party, seeing as all four candidates remain in tight races.
Ossoff and Warnock continue to come under fire for the extreme rhetoric they espouse and the radical policies they support. Ossoff, who previously lost to Georgia Republican Karen Handel, has stated that funding for police officers ought to "on the table."
Meanwhile, Warnock stated during a sermon that Americans cannot worship God and simultaneously serve in the military. Since these remarks have come to light, Perdue, Loeffler, and several Georgia veterans have called upon Warnock to apologize.
The stakes in these two run-offs are quite high; this is why Ossoff and Warnock are trying very hard to beat their Republican opponents; however, from the looks of things, a victory against Perdue and Loeffler may be easier said than achieved.
Pushback against the senatorial candidacies of Ossoff and Warnock
Sen. Perdue has repeatedly hit Ossoff for the latter's "radical socialist agenda." Meanwhile, Sen. Loeffler also continues to blast Warnock for the far-left policies he supports, such as defunding law enforcement.
It turns out that Perdue and Loeffler aren't the only critics of Ossoff and Warnock. Tennessee Republican Sen. Marsha Blackburn recently penned a Breitbart News op-ed where she urged GOP members to rally behind Perdue and Loeffler.
In the op-ed, Blackburn blasts Georgia Democrats Ossoff and Warnock as "the most progressive and radical Democrats" she has seen. The Tennessee senator furthermore warned that handing the Senate majority to Chuck Schumer via Ossoff and Warnock would engender an onslaught of radical, socialist policies.
Some of these radical socialist policies include, but are not limited to the following: defunding law enforcement, increasing taxes, ending private health insurance, etc.
What to expect between now and January 5
Ossoff and Warnock will continue their campaigns between now and January 5. Georgia residents will have the ability to vote early beginning on December 14.
While Perdue accused Ossoff of lying to Georgians and therefore refuses to debate him again, Warnock has a series of upcoming debates against Loeffler. The Loeffler-Warnock debates come as polls show both candidates virtually tied with each other.