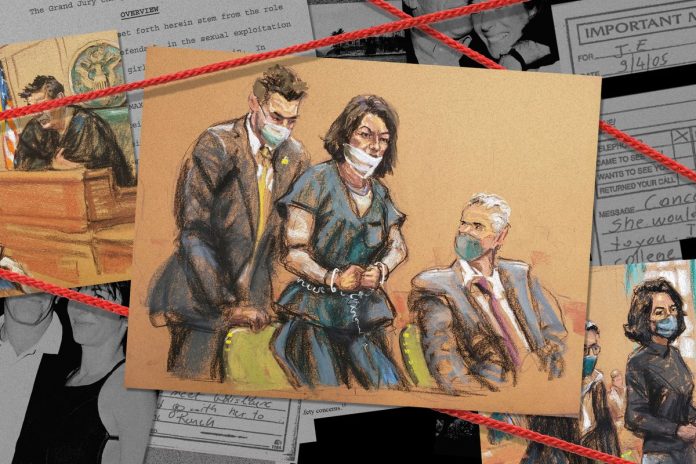 Ghislaine Maxwell was convicted Wednesday for 5 of 6 counts of sex trafficking. The now 60-year-old Maxwell was found guilty of enticing teenage girls as young as 14 to be sexually abused by the late Jeffrey Epstein. She maintained her innocence during the trial.
The abuse took place at Epstein's luxurious mansions in Florida, New York, and New Mexico. The two had a jet-setter lifestyle for decades. And Maxwell was allegedly Epstein's girlfriend before she became his employee and longtime companion.
The trial lasted almost a month with the jury deliberating for five days before finding Maxwell guilty of five of six counts. The prison terms for each charge range from five to 40 years. And it looks like Maxwell will be in prison for decades. 
Sex trafficking victims testify
The verdict comes after 4 women testified to the sexual exploitation they experienced in the 1990s and early 2000s. The witnesses were as young as 14 when they were first abused.
Epstein's pilots testified that Britain's Prince Andrew, along with former U.S. Presidents Bill Clinton and Donald Trump flew on their employer's private jets.
Bank records put in evidence show that Epstein transferred $30.7 million to Maxwell when he went to jail. He died in a mysterious jail "suicide" before he made it to the courtroom.
Three witnesses were using first names, or alias to protect their privacy. They include Jane, a TV actress, Kate, a former British model, and Carolyn, now a mom in recovery from drug addiction. The fourth was Annie Farmer, who chose to use her real name since she has already made public allegations.
The witnesses detailed Maxwell's role in recruiting and grooming them. And even described how she sometimes joined in the sexual abuse. Maxwell was accused of using charm, along with gifts and money to gain their trust. And she also took an interest in their teenage problems and assured them Epstein would use his wealth and connections to make their dreams come true.
At some point, Maxwell would talk the girls into giving  Epstein massages that soon turned sexual. And she would assure the young girls that this was normal. Then the girls were paid off in $100 bills. Prosecutors claimed this was a "pyramid of abuse." 
Both Jane and Carolyn claim that Maxwell knew they were only 14 when the abuse started. And that she made all the arrangements for Epstein.
Victim Annie Farmer said in a statement, "She has caused hurt to many more women than the few of us who had the chance to testify in the courtroom. I hope that this verdict brings solace to all who need it and demonstrates that no one is above the law. Even those with great power and privilege will be held accountable when they sexually abuse and exploit the young."
U.S. Attorney Damian Williams said that the victims were brave to testify to  "one of the worst crimes imaginable."
"I want to commend the bravery of the girls – now grown women – who stepped out of the shadows and into the courtroom. Their courage and willingness to face their abuser made this case, and today's result, possible," he said.
Civil litigation pending
Maxwell's brother and sister stood by the British socialite. They filed complaints about the harsh conditions at the Brooklyn jail. She has been called a flight risk. And has been denied bail since her July 2020 arrest. 
The defense always insisted Maxwell was also a victim. And Epstein was the guilty one. "The charges against Ghislaine Maxwell are for things that Jeffrey Epstein did,"  Maxwell attorney  Bobbi Sternheim, told the jury. "But she is not Jeffrey Epstein and she is not like Jeffrey Epstein."
There is still pending civil litigation involving Epstein's estate. Several lawsuits have been filed. This includes one filed by Virginia Giuffre. She was not called as a witness in the criminal case.  She claims she was forced to have sexual encounters with Prince Andrew. And she was a 17-year-old at the time. The British Prince is denying her charges.
Other rich and famous men like Bill Gates have been linked to Epstein.
No sentencing date is set. Maxwell plans to appeal her sex trafficking conviction. And she still faces a trial on two perjury counts for allegedly lying in a deposition for the Giuffre civil lawsuit.