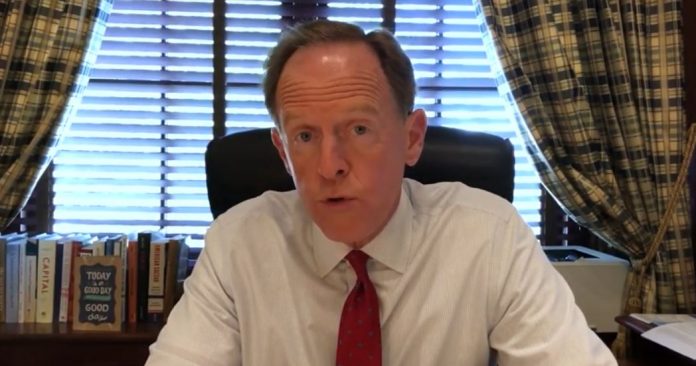 Republican Senator Pat Toomey of Pennsylvania disagrees with President Donald Trump's solution to the negative impact of the escalating trade war between the United States and China.
On Monday, Trump announced his plan to provide around $15 billion assistance to farmers affected by the trade war with China. On Friday, the U.S. imposed 25 percent tariff on additional $200 billion worth of Chinese products.
In retaliation, China imposed 5 percent to 25 percent tariffs on another $60 billion worth of U.S. goods including beans, beef, corn, honey, flour, lentils, peas, soybean and other agricultural products.
On Wednesday, Toomey told reporters that Trump's financial aid to farmers affected by the trade war is a "very bad policy."
The GOP senator explained, "Think about what we're doing. We're inviting this retaliation that denies our farmers — the most productive farmers on the planet — the opportunity to sell their products overseas and then we say, 'Don't worry; we'll have taxpayers send you some checks and make it OK.' That's a very bad approach."
Additionally, Toomey stated that imposing tariffs during negotiations with trading partners such as Canada, Mexico and the European Union is a "mistake."
He said, "I think it's been a mistake, with respect to steel and aluminum, with respect to the European Union, Canada and Mexico, our allies like Japan [and] South Korea. I think it has not been a productive use. I think some of these approaches should be scaled back."
Sen. Toomey says tariffs are "dangerous and a painful tool"
Furthermore, Toomey emphasized, "Tariffs are not in and of themselves a good thing. Tariffs, at best, can be a tool that might produce good results, but they are themselves dangerous and a painful tool that hits both the country against which the tariffs are being imposed and the country that is doing the imposition."
"I think the recent developments with China are illustrating this. It's certainly true that tariffs on Chinese products can be painful for parts of China.  Although, oddly, so far Chinese imports to the U.S. have not declined, American exports to China have declined and our trade deficit with China has worsened despite these tariffs," added Toomey.
Moreover, the GOP senator emphasized that American and Chinese consumers are paying the price as a result of the tariffs and trade war.  He directly explained his position on the issue to Trump. According to him, the President "doesn't agree with my macro view on trade."
Toomey is a member of the Senate Finance Committee. He introduced a bipartisan bill to limit Trump's power on tariffs. The proposed legislation will give Congress the authority to approve future tariff increases under Section 232 of the 1962 Trade Expansion Act.