Once I posted my first job, I started recruiting talent myself.   The recruiter tool, which is also free, was extremely easy to use and gave me insights into talent unlike any other platform I've ever used before.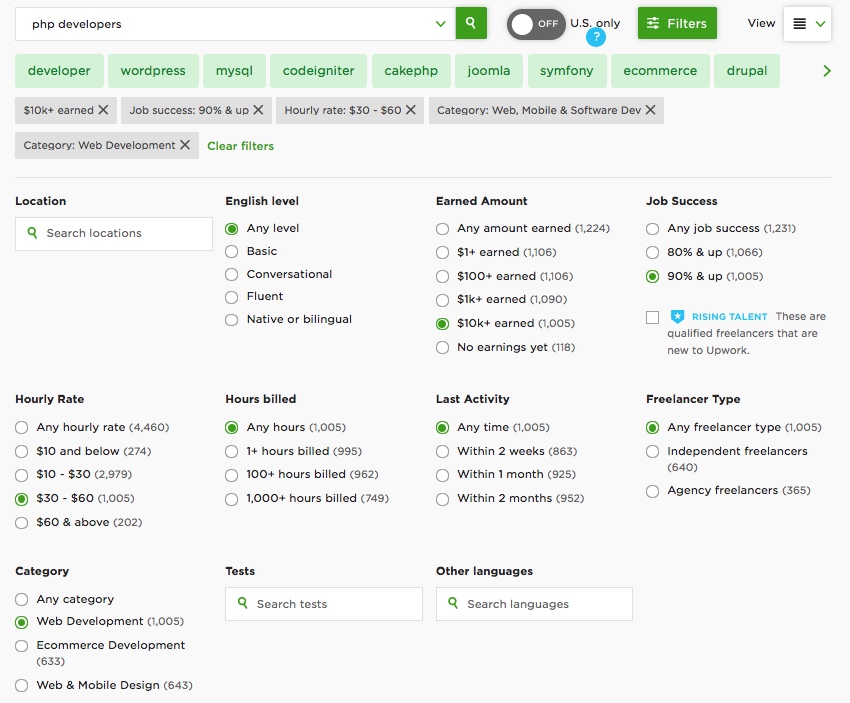 Notably I could choose the geo-area of the development talent I was seeking…in this case I chose Romania, Poland, and Ukraine due to their great reputations for development talent.
To identify talent, as you can see above, I narrowed my search to:
 Freelancers must have a rating of 90% or higher from their previous engagements.   Ratings are key on Upwork, as freelancers can rate the business they are working for and businesses can rate the freelancer's performance.   When sourcing freelancers you can see how much money they've billed previous clients, the type of work performed, and the details of the rating.
I typically only hire freelancers that have billed over 1000+ hours on the Upwork network.   That way I can better identify talent through their previous reviews.
Upwork let's you choose the hourly rate the freelancers typically bills.   This is great because you can cut straight to the point with the freelancer and get one that is within your budget.
All freelancers are subjected to testing to determine their English proficiency.  Since I speak English only, I'm able to narrow my criteria to freelancers that have a strong command of the English language only.
There are both independent freelancers and agencies on Upwork.   I prefer to work with independent freelancers, cutting out the agency middleman from the supply chain.  Nevertheless there are agencies that have billed millions of dollars via the Upwork platform and appear to be worth hiring.
Within minutes of creating my first job posting I was able to access talent across the world that far surpassed any talent I had ever come across previously.   Best of all the response rate was almost immediate from the developers I connected with.