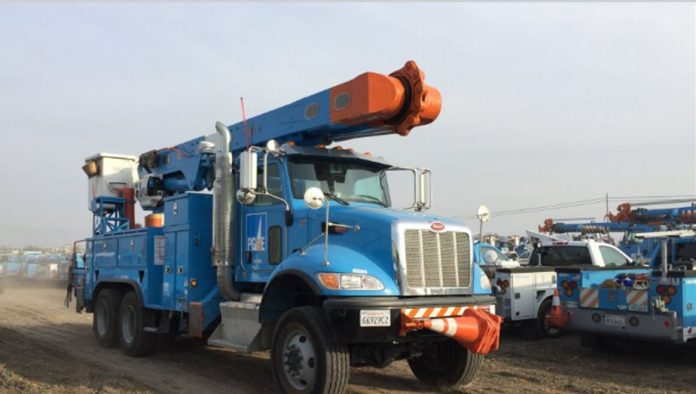 Pacific Gas Electric Company (PG&E) issued a warning to thousands of consumers in Northern California that it will proactively shut off power in several counties this weekend due to extreme fire risk.
According to the state's largest electric utility, the power shut off will affect approximately 1,600 customers in North Bay and 30,000 cusomers in Sierra Foothills this Saturday.
PG&E is turning off power in these areas to "reduce the risk of wilffire" and ensure that its customers and their families and homes as well as businesses are safety.
The National Weather Services issued Red Flag Warnings for the Central Valley and the North Bay Hills on Friday evening until Sunday afternoon.
Last week, the California Public Utilities Commission (CPUC) approve rules allowing utility companies to implement  public safety power shut-off or de-energization during extremely hot and dry weather condition or powerful wind storms.
De-energization is part of the wildfire mitigation plans submitted by utility companies to the CPUC.
In a statement, PG&E vice presiden of Electric Operations Michael Lewis, said, "We know how much our customers rely on electric service and would only consider temporarily turning off power in the interest of safety during extreme weather conditions."
PG&E public safety power shutoff potential timing and locations
PG&E said it will start the public safety power shutoff in the North Bay around 6:00 a.m. Saturday in the following areas:
Napa County:Portions of Napa, Lake Berryessa
Solano County:Portions of Suisun City, Vacaville, Winters
Yolo County:Portions of Davis, Winters
In the Sierra foothills are, the Public Safety Power Shutoff will start around 9 p.m. on Saturday in the following areas:
Butte County:Portions of Paradise, Oroville, Bangor, Forest Ranch, Chico, Berry Creek, Palermo
Yuba County: Portions of Browns Valley, Oregon House, Marysville, Wheatland, Rackerby
Nevada County:Portions of Auburn, Grass Valley, Smartville, Rough and Ready, Penn Valley
El Dorado County:Portions of Pilot Hill, Greenwood, Georgetown, Cool
Placer County:Portions of Lincoln
PG&E continues to monitor the weather conditions. Peak fire risks in these areas are expected to begin at around 9:00 pm Saturday until noon on Sunday.