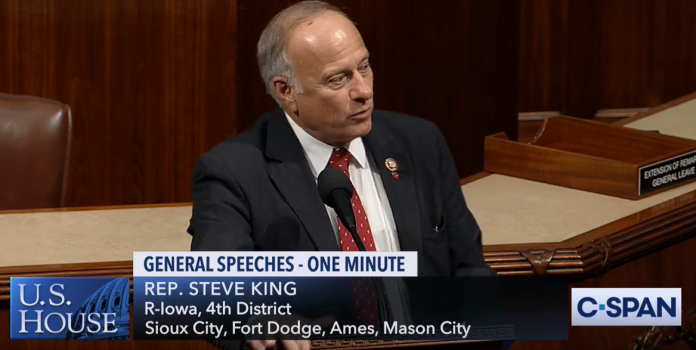 Leading conservative external organizations and Republicans are getting behind Rep. Steve King's (R-Iowa) contender in advance of the June 2 primary election, concerned that the 17-year congressman's history of incendiary comments will damage the Republican Party throughout the country, The Hill reported.
GOP heads like Rep. Steve Strivers (R-Ohio), who used to lead the National Republican Congressional Committee, and Karl Rove have given money to Randy Feenstra, a businessman who is as King's primary contender for the Republican nomination in Iowa's 4th congressional district.
National organizations, including the Defending Main Street super PAC, the National Association of Realtors and the U.S. Chamber of Commerce, are donating intensely to Feenstra. He has additionally enjoyed backing from the National Right to Life Committee and the Republican Jewish Coalition. That provides Feenstra with vital allies in the push to beat King.
Feenstra's own surveying indicates he's inside the margin of error. Also, he's put together a dominant financial advantage over King, whose success in raising money stopped after his committee assignments were removed in 2019. That's when he made more questionable comments about race, including remarks about Hurricane Katrina victims that made Rep. Cedric Richmond (D-La.) call King a "white supremacist," NBC News reported.
"Yes (Feenstra can win) and I think it's important for the GOP that he does," Rove told The Hill. "All the ugly, bigoted things Steve King says results in mud thrown on every other Republican."
Scott Reed, a U.S. Chamber political strategist, stated he's been concerned that King is so poisonous that it could bring down Sen. Joni Ernst's (R-Iowa) efforts to get reelected. That could put the GOP's Senate majority in serious danger.
"We care about maintaining a Republican majority in the Senate and we're concerned Steve King will be an albatross to Joni Ernst," Reed stated. "She is going to need every vote in rural Iowa that she can get."
The King campaign didn't respond to The Hill's request for comment.
Voters have still supported King despite him often bringing about national headlines and harsh criticism from his associates for comments on ethnic groups, immigrants and forced sex that are considered to be callous, prejudiced and intolerant. King has also questioned why the terms "white nationalist" and "white supremacist" were offensive, The New York Times reported.
"Normally, any incumbent being outspent this drastically by a credible opponent would be in trouble, but Republicans in the 4th district have stood by Steve King for years, even when he's an embarrassment to the state," stated Sam Roecker, a Democratic tactician in Des Moines.
King almost was defeated by Democrat J.D. Scholten two years ago, winning by just three points in his solid-red district after prevailing by 20-plus points four years ago.
Source: The Hill