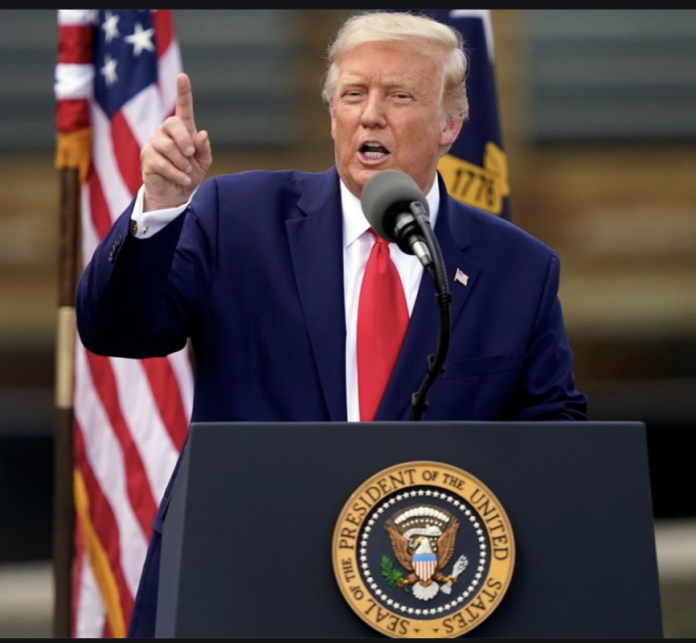 President Donald Trump has requested to join a lawsuit filed by the state of Texas to overturn the results of the 2020 presidential election in four states.
The motion to join the lawsuit was filed on behalf of the president by attorney John Eastman "to intervene in his personal capacity as candidate for re-election," the motion said.
"The fact that nearly half of the country believes the election was stolen should come as no surprise,' the filing said. "President Trump prevailed on nearly every historical indicia of success in presidential elections. For example, he won both Florida and Ohio; no candidate in history—Republican or Democrat—has ever lost the election after winning both States."
"This, despite the fact that the nearly 75 million votes he received—a record for any incumbent President—was nearly 12 million more than he received in the 2016 election, also a record (in contrast to the 2012 election, in which the incumbent received 3 million fewer votes than he had four years earlier but nevertheless prevailed)," it said.
"These things just don't normally happen, and a large percentage of the American people know that something is deeply amiss," the filing said.
The president has asked Texas Sen. Ted Cruz, who has argued numerous cases before the Supreme Court, the head this case.
The remedy sought by the case is to have the results of the election be thrown out and "direct" the state legislatures, all with Republican majorities, "to appoint a new set of Electors in a manner that does not violate the Electors Clause, or to appoint no Electors at all."
The case also seeks to award costs to the plaintiffs for the intervention and "such other relief as the court deems just and proper."
It requests that the Supreme Court "direct the defendant States to review their election results in compliance with pre-existing state law and count only lawfully cast ballots and thereby determine who truly won the contest for President of the United States."
Utah Republican Sen. Mitt Romney has come out against the idea state legislatures selecting the electors and nullifying the vote.
"It's just simply madness. The idea of supplanting the vote of the people with partisan legislators is so completely out of our national character that it's simply mad," the senator said.
"Of course the President has the right to challenge results in court, to have recounts. But this effort to subvert the vote of the people is dangerous and destructive of the cause of democracy," he said.
But Sen. Romney is not on the Supreme Court. This is the president's best, and possibly last, change to win the 2020 presidential election.