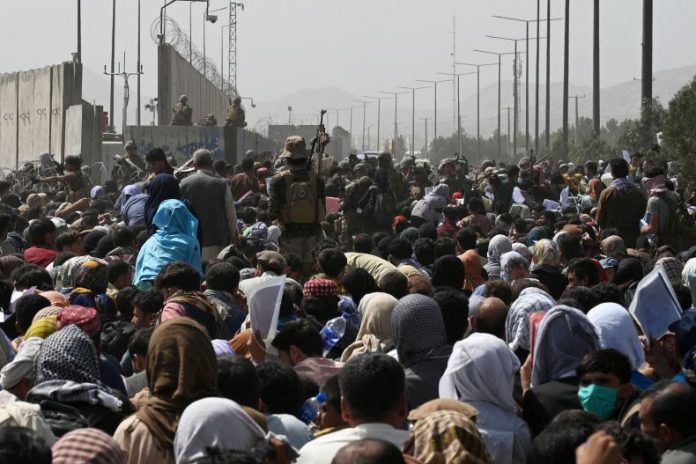 Afghanistan evacuation has been a disaster so far. Huge crowds at Afghanistan's Kabul airport are being seen by satellite. And there are international reports that both Americans and Afghans are trying to flee the Taliban. 
President Joe Biden has been publically ordered by the Taliban to stick to the  U.S. evacuation deadline of August 31st. And he claims he will meet their demands.
In Sunday interviews Niki Haley says that Biden has surrendered to the Taliban. And she joins a number of international voices that claim Biden has been mishandling the US withdrawal.
A botched Afghanistan evacuation
In early July the U.S. military left Afghanistan's Bagram Airfield by cutting off the electricity and slipping away in the middle of the night. And they didn't bother to notify the base's new Afghan commander, Gen. Mir Asadullah Kohistani.
This was a clear sign to the Taliban to take over the country. Which they began to do immediately. And their effort was largely successful throughout August.
Afghanistan's military quickly laid down its weapons. And just as quickly the Taliban collected them. Military aircraft and armored vehicles left on the battlefield have fallen into enemy hands. And weapons, aircraft, and vehicles abandoned at Bagram were also in their hands.
So today as the Taliban advances throughout Afghanistan thousands are attempting to flee.
The local news is filled with the Taliban's murder of Afghan women. And the news is that Taliban death squads are going door-to-door looking for pro-Western women.
And some women were even caught driving. Or in-public not covered to meet the standards of the Taliban's extremist views.
Thousands wait and hope at airport
In the meantime, Hamid Karzai International Airport is the only safe departure point in the embattled country.
Americans, foreign nationals, and Afghans whose work for aid organizations put them at greater risk are desperate. And those who assisted in the war effort are certain they will not survive under the Taliban. 
So those with papers and without them continue to converge on the airport. And in many cases, the Taliban is blocking their way. And sometimes those that are supposed to be airlifted out, are plagued by security issues.
A few days ago, 7 people were killed by the Taliban outside the airport.
Last week when 640 Afghans were boarding a C-17 transport aircraft the pilots made the decision to fly them to safety.
President Biden defended his decision not to extend the deadline. But G7 leaders do not agree. And they remain certain that the situation in Kabul will result in wide-scale massacres. They claim they are extending deadlines in order to avoid increasing bloodshed.
Biden says that everything is on track. And around 70,000 people have been evacuated from Kabul since the takeover. We do not know if this includes all US evacuations or other countries, as well. And no one seems to have a clear idea of how many are still there.
He claims 21,600 people were airlifted out of the country on Monday. And the White House claims 16,000 were being transported the previous day.