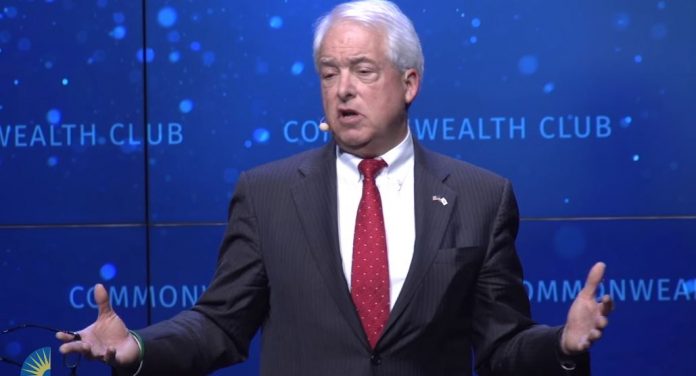 John Cox, the GOP gubernatorial candidate in California, will focus his campaign message on corruption to gain the support of voters.
In November, Cox will compete against Democratic gubernatorial candidate Gavin Newsom, who is pro-abortion rights and plans to raise the issue of abortion in his campaign. Cox is anti-abortion.
In an interview with KPIX 5, Cox stated that people in California are suffering because of corruption in state politics.
"You know, the people on the extremes are the ones that write the checks," Cox said. "They just care about getting to work, they care about feeding their families, they care about getting their kids the best education they can."
Cox Will Convince California Voters with a "Real Message"
Additionally, Cox stressed that "many people in the middle who do not care about politics" are left out. He wants to target those people.
"I am going to be reaching out to Democrats, independents, with a real message that this is not about partisanship," Cox said. "This is not about what is going on in Washington. This is about what is going on in the here and now and the quality of life for people in California. And it has degraded under these politicians."
Cox also noted that political experts were wrong about their predictions about the primary election.
"Well, it's kind of funny because most of the experts had predicted all the way up until the election night that it was going to be two Democrats in the top two," he said.
However, Cox performed well during the primary and finished second with 25 percent of the vote. Newsom received 34 percent of the votes.
Cox Hopes People Will See that His Personality is Different from Trump
President Donald Trump endorsed Cox before the primary election. Many believed that the endorsement helped.
"As my opponent in the primary pointed out, I didn't vote for the president," Cox said. "I've never met him or talked to him, but he endorsed me and I welcomed it."
Cox thinks Trump endorsed him because he is a fellow businessman. However, he made his clear that his personality is different from the president's.
"I hope people see that," Cox said. "And that's fine. He is who he is, and I am who I am, and people can make their own judgments. But I tell you, at the end of the day, it's about delivering results for people."