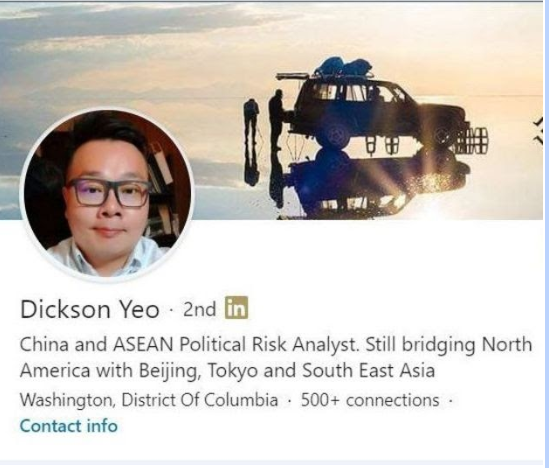 On Friday, Jun Wei Yeo, also known as Dickson Yeo, entered a plea of guilty to one count of acting within the United States as an illegal agent of a foreign power. Mr. Yeo's plea was entered via videoconference before the Honorable Tanya S. Chutkan in the United States District Court for the District of Columbia.
He is scheduled for sentencing on October 9 and faces up to 10 years in prison.
Yeo was not a "useful idiot"
Jun Wei Yeo was a Singaporean Ph.D. student at Lee Kuan Yew School of Public Policy  when he was first approached by Chinese intelligence officers in 2015. Although the Chinese officers pretended to be with a Chinese "think tank," Yeo recognized they were affiliated with the Chinese government.
Bilahari Kausikan, the former permanent secretary at Singapore's foreign ministry, said he had "no doubt that Dickson knew he was working for the Chinese intelligence services." He was not, Kausikan claimed, "an unwitting useful idiot."
In the Statement of Offense, 39-year-old Yeo admitted he used social networking sites, most notably LinkedIn to target Americans with access to valuable non-public information, including U.S. military and government employees with high-level security clearances. 
For 5 years, as an agent for the Chinese government, Yeo trawled for "susceptible individuals who were vulnerable to recruitment and tried to avoid detection by U.S. authorities."  
After Yeo identified American targets, he solicited them for non-public information and paid them to write reports. Yeo told his American targets the reports were for clients in Asia, without revealing that they were destined for the Chinese government.
LinkedIn a goldmine of information
Yeo made his crucial contacts using LinkedIn, the job and careers networking site used by more than 700 million people. The platform was described only as a "professional networking website" in the court documents, but its use was confirmed by the Washington Post.
In finding his contacts, Yeo, who was based in Washington D.C. in 2019, was aided by the LinkedIn algorithm. Each time Yeo saw a profile it would suggest a new slate of contacts with similar experience that might be of interest. 
LinkedIn is a goldmine for foreign intelligence agencies. In 2018, U.S. counter-intelligence chief William Evanina warned of "super aggressive" action by Beijing on the Microsoft-owned platform, which is one of few Western social media sites not blocked in China.
After success using various social media sites, Yeo created a fake consulting company that used the same name as a prominent U.S. consulting firm that conducts public and government relations. He then posted job advertisements under that company name.
According to a press release, 90% of the resumes Yeo received came from U.S. military and government personnel with security clearances. These people's resumes were passed to one of his Chinese handlers.  
Former government and military employees and contractors are not shy about publicly posting details of their work histories on the website in order to obtain lucrative jobs in the private sector.
Modern version of "classic tradecraft"
The use of LinkedIn is not surprising according to Matthew Brazil, the co-author of Chinese Communist Espionage: An Intelligence Primer. "I think lots of worldwide intelligence agencies probably use it to seek out sources of information," he said. "Because it's in everybody's interest who is on LinkedIn to put their whole career on there for everybody to see — it's an unusually valuable tool in that regard."
He said that commissioning consultant reports is a way for agents to get "a hook" into a potentially valuable source who might later be convinced to supply classified information."It's a modern version of classic tradecraft, really."  
Kevin Mallory, a former CIA officer, was sentenced to 20 years in prison last May for disclosing military secrets to a Chinese agent, who targeted him on LinkedIn.    
One of the individuals he contacted worked on the U.S. Air Force's F-35 fighter jet program and admitted he had money problems. Another was a U.S. army officer assigned to the Pentagon, who was paid at least $2,000 to write a report on how the withdrawal of U.S. forces from Afghanistan would impact China.
Dickson Yeo was sent by his Chinese handlers to the U.S. in November 2019. They gave him instructions to turn the army officer who authored the report into a "permanent conduit of information," his signed statement says. He was arrested by the FBI before he was able to perform his mission.
On Sunday, the Straight Times reported that Singapore's Ministry of Home Affairs said investigations did not pose any direct threat to the country's security.
————————————————–
Have a story you want USA Herald to cover? Submit a tip here and if we think it's newsworthy, we'll follow up on it.
Want guaranteed coverage? We also offer contract journalism here.  Just be sure you're comfortable giving up editorial control, because our journalists are dogged and will follow the story through to it's conclusion. The story will be published to our exacting standards, without regard for your preferred slant.
Want to contribute a story? We also accept article submissions — check out our writer's guidelines here.