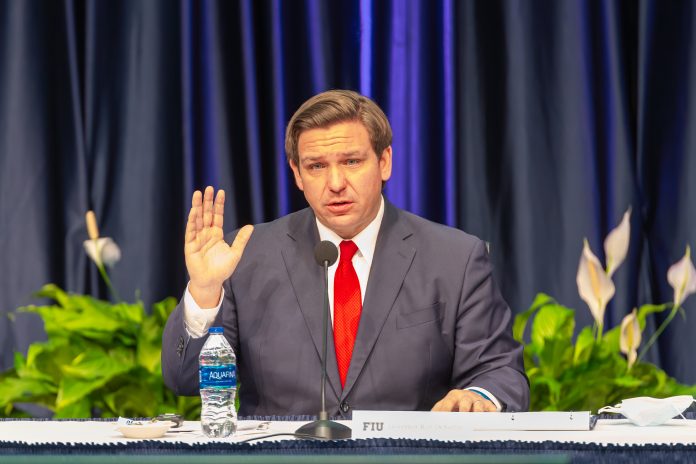 During this month alone, tensions between Florida Republican Governor Ron DeSantis and President Biden have ratcheted up. Days ago, Biden scolded governors like DeSantis and other GOP leaders for supposedly "standing in the way."
Biden's irritation stemmed from the fact that Republican governors are allowing parents to decide whether they want their kids wearing face coverings in schools. This comment from Biden prompted a strong rebuttal from DeSantis.
The Florida governor stated that he will indeed stand in the way of anyone who wants to erode parents' choices, ruin businesses, and hurt jobs. Governor Abbott in Texas has also joined DeSantis in allowing parents in his state to determine whether or not they want their kids wearing masks in schools.
Amid this tension between the Florida governor and Biden, DeSantis is now facing attacks from the left-leaning media.
Media attacks against the Florida governor
It is common knowledge in America that DeSantis is up for re-election as Florida's governor next year. Charlie Crist, a Florida Democrat, is one of the contenders hoping to oust DeSantis. Now, when DeSantis ran against Andrew Gillum in 2018, the media plastered polls showing DeSantis behind his then-opponent.
The media is now doing the same thing in polls showing a match-up between DeSantis and Crist. Right now, the poll being shown shows DeSantis coming in at 44% to Crist's 45%. Back in 2018, polls showed Gillum beating DeSantis by a landslide; yet, as we all know, DeSantis defeated Gillum by less than one percent.
Leftist fears of Governor DeSantis
Right now, it's very apparent that Democrats are terrified of Governor DeSantis. His popularity and the fact that hundreds to thousands of people per day are moving to Florida because of DeSantis' leadership scares the left.
Even more so, leftists are horrified that DeSantis has strong support for making a presidential run in 2024. Some people on the right have even described DeSantis as a more polished version of Trump; this, along with the Florida governor's strong popularity and crossover appeal, makes him a threat to Democrats in a hypothetical match-up against Biden or Harris.
Governor DeSantis has made clear that he will not allow tyranny and mandates to erode Floridians' freedoms.