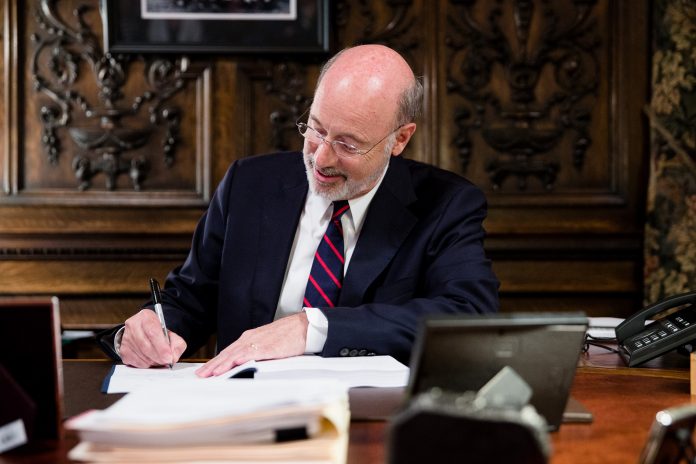 Pennsylvania Governor Tom Wolf signed the bipartisan Clean Slate bill to provide low-level criminal offenders second chance to succeed in life.
The legislation allows automatic sealing of criminal records of those who committed minor criminal offenses, served their sentence and had no subsequent criminal arrests for ten years
Additionally, the Clean Slate bill enables a person to petition the courts to seal his/her records. The petitioner must be free from conviction for 10 years for an offense that resulted to a year or more in prison and paid all court-ordered financial debts.
The legislation does not allow the sealing of criminal records involving serious crimes including firearms charges, murder, kidnapping, sexual offenses, and others.
In a statement, Gov. Wolf said he is "proud to sign" the Clean Slate bill. He emphasized that the legislation will make it easier for those who have interacted with the justice system to get a job and house. It will "reduce the stigma" associated with their criminal records.
He added, "This is the latest step in my administration's efforts to make our commonwealth and our society safer… Last year, we 'banned the box,' removing the criminal conviction question for job applications covered by the Office of Administration…"
Gov. Wolf encourages passage of more criminal justice reform bills
Furthermore, Gov. Wolf encouraged Pennsylvania lawmakers to pass additional criminal justice reform legislation including:
Justice Reinvestment Initiatives (JRI2) to provive  fair sentencing, increase parole supervision and use of community-based programs and other reforms.
Bail and Pre-Trial Reforms to ensure that everyone has a right to a fair trial. It will also male sure that risk-assessment tools are consistent across the commonwealth.
Post-Conviction Relief Act Expansion increases awareness regarding the expiration date of a defendants rights to make an informed plea decision. Currently, a defendant who pleads guilty is shut out from post-conviction relief. Therefore,  reform is necessary to give all defendants opportunity to try to prove their innocence.
Probation/Parole Revocation and Re-sentencing to create uniformity in probation revocation procedures. It will also ensure a correlation between risk and probation lengths, resulting in better supervision.
Indigent Defense is a critical part of the system that can have a large impact on volume, cost, and human effect. Pennsylvania needs this reform to ensure the independence and quality of counsel under the Sixth Amendment.
Stepping Up Initiative to reduce the number of people who have serious mental illnesses in the county prison.
Pennsylvania invests in STEM and job training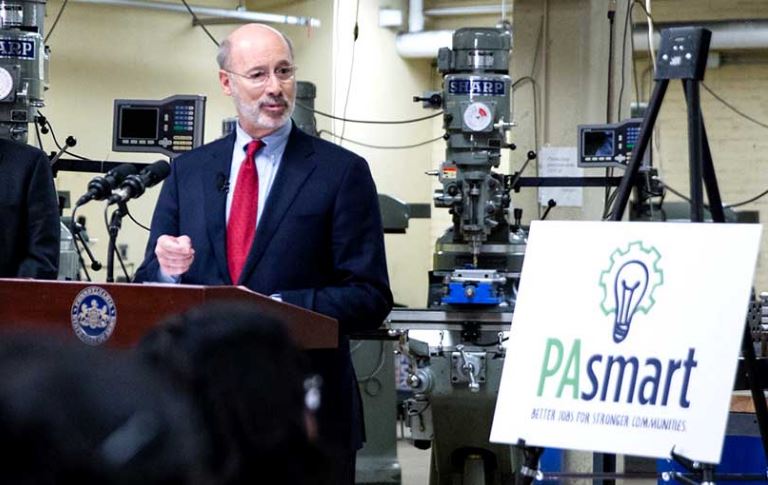 Separately, Gov. Wolf launched PAsmart with a $30 million investment in STEM (science, engineering, math and technology),  computer education, apprenticeships and job training.
In a statement, Gov. Wolf said, PAsmart is an "innovative way of connecting people with the training they need for in-demand middle class jobs…"
He believes that Pennsylvania can attract more businesses and grow its economy by investing in people and skills to create a strong and talented workforce.
The demand for STEM jobs are rapidly growing. In Pennsylvania, around 700,000  STEM jobs will be available this year and over the next decade.
According to Gov. Wolf, "Pennsylvania is a national leader in STEM education, but we must do more to stay competitive in the global economy."