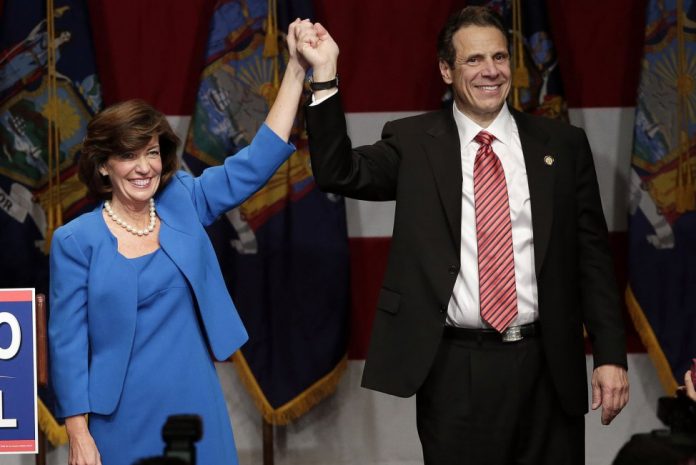 New York's Lt. Gov. Kathy Hochul will soon become the Governor. And on Wednesday the former congresswoman said she is ready to take the reins of the government and clean up Albany. She will take over as governor from Andrew Cuomo in two weeks.
She is vowing to clean up the "toxic" workplace that Cuomo allegedly has been creating over the course of three terms.
His resignation comes in the wake of a sexual harassment investigation where 11 women accused Cuomo of inappropriate behavior. Cuomo is resigning to avoid impeachment.
Hochul, 62, is relatively unknown except in New York insider circles. And she doesn't come from a famous political family like her predecessor. She became the lieutenant governor in 2014. Previously she served in Congress for a year. She also held several local positions in New York.
Time to clean up Albany 
In her first briefing after Cuomo announced his resignation Hochul said, "And when my term ends, nobody will ever describe my term as a toxic workplace environment." 
Hochul also said she would get rid of any remaining Cuomo staff who were involved in "unethical" conduct or retaliation against the women who accused the now-disgraced governor of sexual harassment.
"The governor and I have not been close," Hochul told reporters.
Hochul's term as governor will expire in late 2022. She says she is already holding meetings with New York legislators, U.S. Senate Majority Leader Chuck Schumer, D-New York. And with former Sen. Hillary Clinton, along with business and faith leaders, and governors from surrounding states.
"I'll build out my senior staff. And I'll do what I've always done. I will travel the state to meet New Yorkers, to listen to them, to assure them that I've got their backs." Hochul expects to pick her own lieutenant governor, before becoming governor herself.
Picking up the pieces
The NY Attorney General's scathing report said Cuomo broke federal and state laws by touching without consent and sexually suggestive comments. Several district attorneys' offices are probing whether the governor's sexual harassment was criminal.
The report also found that top Cuomo's inner circle attempted to retaliate against former government official Lindsey Boylan, one of Cuomo's accusers.
"Nobody named in that report doing anything unethical will remain in my administration," said Hochul, a Buffalo Democrat.
She did not answer when asked if she would ever consider pardoning Cuomo. But Hochul did say she will, as governor, release all data about Covid-related deaths of nursing home residents.
The Cuomo administration has also faced controversy for suppressing data about COVID-19 related deaths in nursing homes. Cuomo obtained a multi-million-dollar book deal for his story of how his leadership was heroic during the coronavirus pandemic.
"My administration will be fully transparent when I'm governor," Hochul said. "I'm not governor yet."