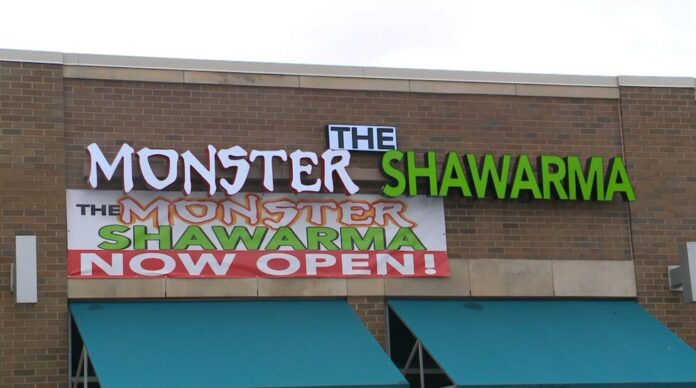 (USA Herald) – In a recent trademark clash, energy drink behemoth Monster Energy Company has filed a lawsuit against Toledo-based restaurant Monster Shawarma, alleging trademark infringement and unfair competition. The legal dispute, brought to light by legal news contributor Samuel Lopez, raises concerns about intellectual property rights and the potential consequences for small businesses.
Since 2002, Monster Energy has built an iconic brand presence with its distinctive "Monster" marks, which have been used in various advertising campaigns, sports sponsorships, and even at their own restaurant, the Monster Beastro. According to the company, Monster Shawarma has been unfairly competing with their trademarked brand, causing confusion among consumers and potentially tarnishing Monster Energy's reputation.
Monster Energy's complaint, filed in the Ohio federal court, alleges that the restaurant has not only used the custom white "Monster" font in its marketing materials but also replicated the black, green, and white color palette associated with the energy drink company. These similarities, the energy giant claims, create a "strikingly similar commercial impression" to their trade dress.
The conflict between the two businesses began in December when Monster Energy sent a cease and desist letter to Monster Shawarma. After receiving no response, the energy drink company followed up in January. The continued lack of response led Monster Energy to conclude that the restaurant's allegedly infringing acts were "conducted with the deliberate intent" to capitalize on Monster Energy's goodwill.
In the legal proceedings, Monster Energy asserts claims of trademark infringement, trade dress infringement, and false designation of origin under federal law. Additionally, they invoke unfair competition and deceptive trade practices under Ohio statutes. The company is seeking court orders to direct Monster Shawarma to cease infringing on Monster Energy's intellectual property, cancel any trademark registrations for its infringing materials, and destroy all alleged infringing materials in its possession.
To further penalize the restaurant, Monster Energy has requested triple its actual monetary damages, along with interest and legal fees. Representing Monster Energy in this legal dispute are James A. Tate of Helmer Martins Tate & Garrett Co LPA and Steven J. Nataupsky, Lynda Zadra-Symes, and Hans L. Mayer of Knobbe Martens. At the time of this report, counsel information for Monster Shawarma was not yet available.
The case, Monster Energy Co. v. Lavie Westgate LLC, case number 3:23-CV-00480, is currently in the U.S. District Court for the Northern District of Ohio. As the legal process unfolds, it is essential to consider both sides of the dispute fairly and without bias towards one party or the other.
By Samuel Adam Lopez, Legal News Contributor for USA Herald