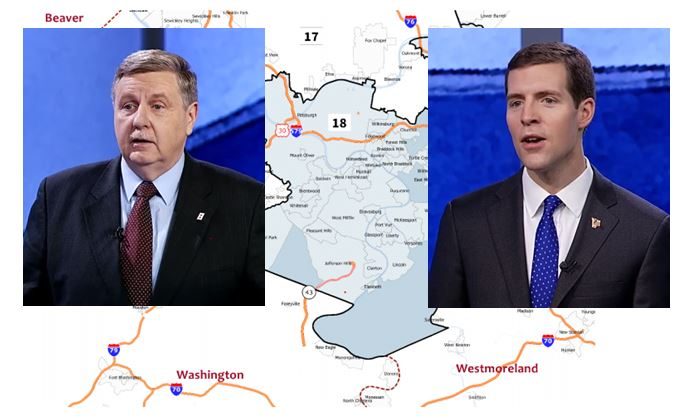 The special election in the 18th congressional district of Pennsylvania is now a toss-up, according to a political analyst.  The district is traditionally red. It was held by former U.S. House Rep. Tim Murphy since 2003 until his resignation on October 5, 2017.
On Tuesday, David Wasserman, the House editor and political analyst for The Cook Political Report, noted that the contest between GOP state Rep. Rick Saccone and Democratic candidate Conor Lamb is "extremely close."
Based on the latest Monmouth University Poll, Saccone is leading by a slim margin. Republicans normally enjoyed a double-digit advantage in the 18th district of Pennsylvania.
The national political climate has negative impact for the GOP in Pennsylvania's special election. However, that "wouldn't be enough" to push the traditionally Republican 18th district into the toss-up column. President Donald Trump remains popular in the area, according to Wasserman.
Lamb is a stronger candidate than Saccone
The race in Pennsylvania's 18th district became so close because Lamb is a stronger candidate than Saccone, according to Wasserman. He added that many Republican admit that fact.
Lamb is a Marine veteran and a former assistant U.S. attorney. His priorities include protecting Medicare and Social Security, jobs and infrastructure, affordable health care, fighting the heroin crisis, unions, modern energy development, and releasing students from lifetime debt traps.
Additionally, Lamb made the headlines when he said he will not support House Minority Leader Nancy Pelosi to lead the Democrats in the House. The attack portraying him as "sheep" in Pelosi's flock did not stick. Republicans cannot find any video clip that would tie Lamb to the Democratic leader.
Furthermore, Lamb surpassed Saccone in fundraising. Last year, the Democratic candidate raised $560,000 compared with the Republican's $214,000. Lamb raised $3.2 million from January 1 to February 21. He has more money to spend on ads to communicate his message effectively.
GOP leadership is helping boost Saccone's campaign
The Republican leadership decided to help boost Saccone's candidacy by spending millions of dollars in political advertisement.
National Republican Congressional Committee (NRCC) spent $2.2 million on ads. Speaker Paul Ryan's Congressional Leadership Fund spent another $2.7 million for the GOP candidate.
In a previous tweet, President Donald Trump expressed "total support" for Saccone whom he described as a "great guy."
Will be going to Pennsylvania today in order to give my total support to RICK SACCONE, running for Congress in a Special Election (March 13). Rick is a great guy. We need more Republicans to continue our already successful agenda!

— Donald J. Trump (@realDonaldTrump) January 18, 2018
During the 2016 election, Trump won by 20 points in the 18th congressional district of Pennsylvania.
Lamb remains an underdog in the special election. However, he is gaining support from workers' unions. The Pennsylvania AFL-CIO, which consistently supported Murphy, endorsed Lamb. The labor group believes that Saccone "doesn't support working people."
Outspent 17-to-1 — but the race in #PA18 is "neck and neck" because grassroots supporters are stepping up to help Conor fight back.

17 days to go & we're counting on you every step of the way. Let's win this together: https://t.co/aauyWWsCQQ pic.twitter.com/Y7q9CKd6IY

— Conor Lamb (@ConorLambPA) February 24, 2018
Rick Saccone is "tied to the right wing of his party". He doesn't support Pennsylvania's working people or the policies that keep good jobs here in our Commonwealth. @RWBloomingdale @ConorLambPA @USW @MineWorkers #PA18 https://t.co/eEMv3tIhQA

— PA AFL-CIO (@PaAFL_CIO) February 23, 2018