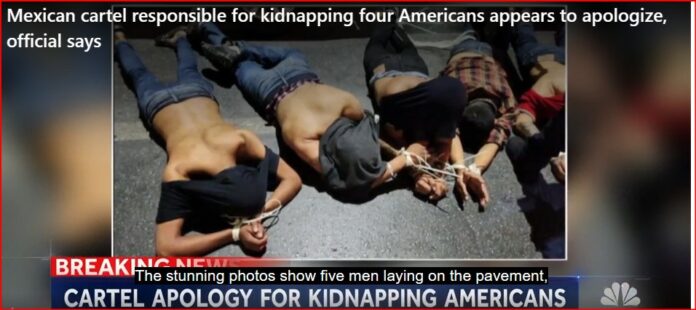 On Thursday Mexican authorities in Matamoros discovered five men, lying face down with their hands tied. And beside them was a letter of apology allegedly from the Gulf Cartel.
The powerful criminal cartel blamed the men for the recent attack on four Americans. The note apologized for the assault that left two Americans and one Mexican dead and claimed that it was giving up the men who carried it out.
"The Gulf Cartel Scorpion Group strongly condemns the events of Friday, March 3 in which unfortunately an innocent working mother died, and 4 American citizens were kidnapped, of which 2 died." 
"We have decided to hand over those involved and directly responsible for the events, who at all times acted of their own volition," the letter claimed. 
It has not yet been established whether the message was accurate or even actually written by the cartel.
Did the Gulf Cartel leave a note?
Mexican authorities will question the five men to try to determine whether they participated in the abduction and killings.