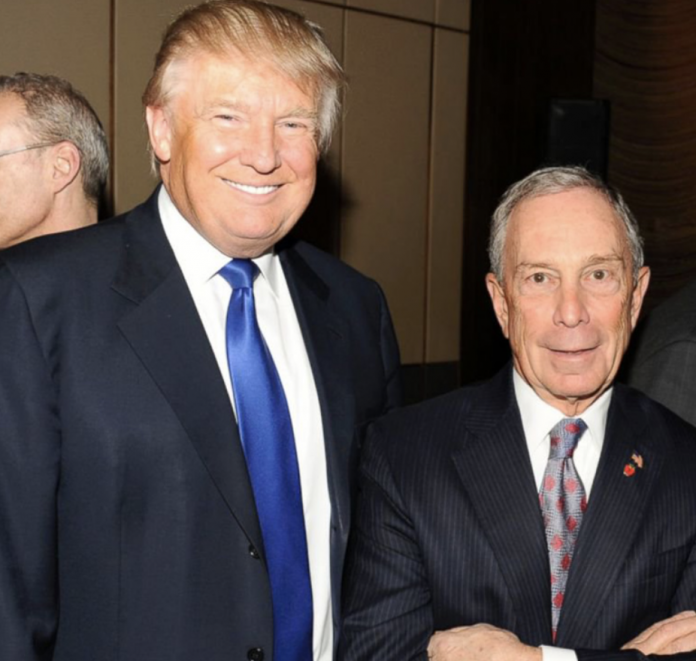 2020 Democrat Mike Bloomberg has soared in various Democrat polls and in the press over the past few weeks.
Despite entering into the race much later than his in-party rivals, Bloomberg is able to somewhat compensate by expending hundreds of millions of dollars on campaign ads. These ads air on television, radio, and YouTube; however, as Bloomberg gets more attention, so do his past controversial remarks.
At this time, the former New York City mayor is taking heat for his statements regarding farmers and factory workers, along with black and Latino male youth. Bloomberg is on record professing that he could teach anyone to work on a farm or in a factory; then came the resurfaced comments of Bloomberg declaring that black and Latino male youth are incapable of functioning in the workplace.
However, Bloomberg's latest controversy entails a Twitter back-and-forth with President Trump which took place this afternoon.
Trump vs. Bloomberg on Twitter
Like many other Americans, the president has concerns about how Bloomberg is approaching the 2020 election. Folks on both the left and the right maintain that the Democrat candidate is essentially just buying his way through the process. Earlier today, Trump weighed in with his take on "Mini Mike" Bloomberg.
…..Mini is illegally buying the Democrat Nomination. They are taking it away from Bernie again. Mini Mike, Major Party Nominations are not for sale! Good luck in the debate tomorrow night and remember, no standing on boxes!

— Donald J. Trump (@realDonaldTrump) February 18, 2020
Less than an hour later, Bloomberg responded to Trump. The former mayor of New York City questioned the president, asking why he has an interest in running against Bernie Sanders.
Why do you want to run against Bernie so badly? https://t.co/HOnHap4QdL

— Mike Bloomberg (@MikeBloomberg) February 18, 2020
Then, Trump responded less than 30 minutes later. The president assured Bloomberg that he'd rather run against him and not Sanders. It's worth noting that Sanders, like others, has accused Bloomberg of just purchasing his way through the 2020 election.
Mini Mike. No, I would rather run against you!

— Donald J. Trump (@realDonaldTrump) February 18, 2020
Finally, Bloomberg replied, stating that Americans "can't trust a word" from Trump. Shortly thereafter, Bloomberg concluded the back-and-forth by stating that he'll see the president in November.
Can't trust a word you say – and now you want us to believe you?

See you in November. https://t.co/GkKkoXNY6T

— Mike Bloomberg (@MikeBloomberg) February 18, 2020
Will Bloomberg Truly See Trump in November?
Despite spending obscene amounts of money on questionable campaign ads, Bloomberg has not won a single delegate, caucus, or primary election.
He also has yet to appear on any debate stage or at a single town hall event. Surges happen all the time during primary elections, but one could easily make the case that it's a bit early for Bloomberg to declare that he'll see Trump in November.