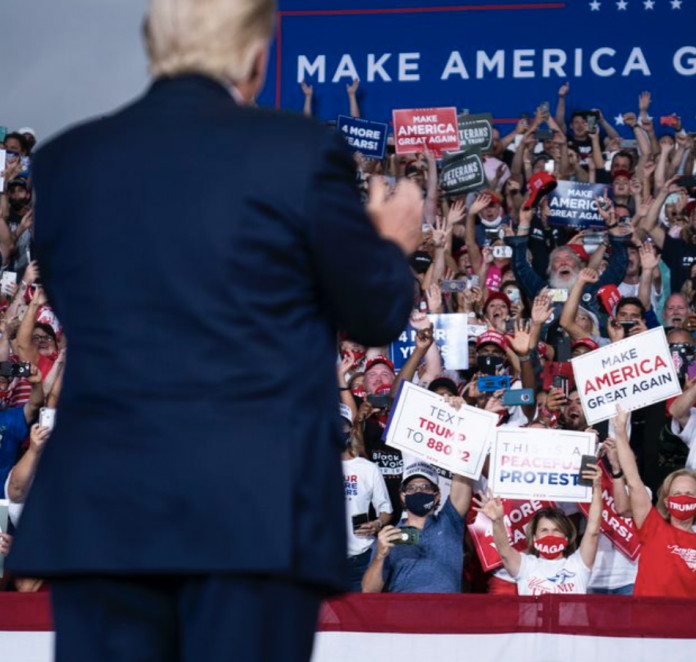 This morning, Decision Desk made the rash and hasty call to declare Joe Biden as the winner of Pennsylvania and therefore the president-elect of the United States.
Meanwhile, amid the aforementioned call, the counts of votes are still very much underway. Just this morning, Georgia announced that they will have to do a recount due to the closeness of current votes; Wisconsin is also doing a recount of ballots, per a request from the Trump campaign.
This election is not over. pic.twitter.com/0WJGtgqKxX

— Team Trump (Text VOTE to 88022) (@TeamTrump) November 6, 2020
There's a lot happening right now; hasty and inaccurate calls that declare Biden as the winner of this race only add to the confusion and complications of ongoing events.
Right now, however, Americans should be very concerned about the rampant voter fraud that the Trump 2020 campaign and other Republicans are warning about across the nation.
Dishonesty in the 2020 Presidential Election
The Trump campaign is moving ahead with pending and forthcoming lawsuits due to their knowledge of cheating, voter fraud, and more.
In an email to Trump supporters, first son Eric Trump professed that Democrats are barring Republican poll watchers from observing the counting of ballots; Trump also stated that his father's campaign discovered ballots trashed inside drainage ditches and videos of passed out "collateral material" in Philadelphia polling sites.
We have documented irregularities in Michigan.

In Wayne County, poll watchers were kept in the dark with blocked windows & padlocked doors.

At the TCF Center, a whistleblower said their supervisor asked them to illegally put dates on ballots. pic.twitter.com/VX5Lt0MYuK

— Ronna McDaniel (@GOPChairwoman) November 6, 2020
The Trump campaign is far from the only source reporting about cheating and fraud in this election.
According to Republican National Committee chairwoman Ronna McDaniel, Republican ballots are being given to Democrats due to clerical errors; it doesn't stop there though. The GOP chairwoman furthermore announced on Friday that whistleblowers are reporting the illegal printing of wrong dates on ballots.
An Endless List of Election Fraud
As time passes, the list of corruption seems to increase in magnitude. On Thursday, the Nevada Republican Party warned that thousands of non-residents illegally voted in their state. Only further investigations will determine if unlawful votes engendered Biden's lead in Nevada.
This is frightening. Nevada has allowed non-residents to vote.

Legal voters everywhere should be outraged. https://t.co/ZnM4EkfYy3

— Richard Grenell (@RichardGrenell) November 6, 2020
Duplicate votes and votes from deceased individuals are also widely reported; furthermore, military ballots for Georgia appear to now be missing. The president has questioned where the ballots are; thus far, no one seems to have an answer.
At this point, there is no telling just how deep the election corruption and dishonesty goes. However, the Trump campaign is vowing to stand on principle and fight for a fair election. President Trump himself maintains that he will pursue a clean, honest election "through every aspect of the law."
have said that all legal ballots must be counted and all illegal ballots should not be counted, yet we have met resistance to this basic principle by Democrats at every turn. We will pursue this process through every aspect of the law to guarantee that the American people have

— Team Trump (Text VOTE to 88022) (@TeamTrump) November 6, 2020
confidence in our government. I will never give up fighting for you and our nation."

— Team Trump (Text VOTE to 88022) (@TeamTrump) November 6, 2020
Developments surrounding the 2020 presidential election are breaking by the hour. USA Herald will continue sharing more information as it arrives.