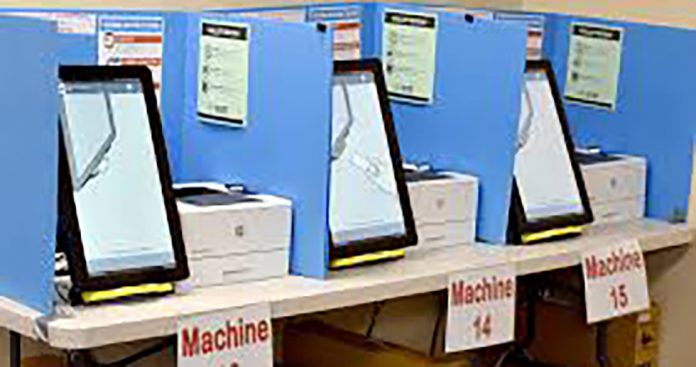 It looked like a Georgia judge sided with a pro-President Donald Trump attorney but hours later he reversed his decision to impound voting machines.
L. Lin Wood, who has represented Richard Jewell, a Covington student Nick Sandmann and Kenosha shooter Kyle Rittenhouse, argued that the Dominion voting machines in Georgia be impounded so a forensic audit could be done, The NZ Herald reported.
Wood is currently suing Republican Georgia Governor Brian Kemp, Secretary of State Brad Raffensperger, and some members of Georgia's election board to have the state decertify the election and give the lectors to President Trump.
Wood claimed that there was rampant voter fraud and requested "that voting machines be seized and impounded immediately for a forensic audit by plaintiffs' experts."
He also asked for an order that "no votes received or tabulated by machines that were not certified as required by federal and state law be counted".
US District Court Judge Timothy Batten agreed to give Wood a temporary injunction before reversing his decision hours later.
"Plaintiffs contend that Union County officials have advised that they are going to wipe or reset the voting machines of all data and bring the count back to zero on Monday, November 30," the judge said.
"To the extent, Plaintiffs seek a temporary restraining order to preserve the voting machines in the State of Georgia, and to prevent any wiping of their data, their motion is granted. Defendants are ordered to maintain the status quo and are temporarily enjoined from wiping or resetting any voting machines until further order of the court," he said.
However, Judge Batten reversed his decision after learning that local officials controlled the machines.
"Plaintiffs' request fails because the voting equipment that they seek to impound is in the possession of county election officials," the judge said.
"Any injunction the court issues would extend only to defendants and those within their control, and plaintiffs have not demonstrated that county election officials are within defendants' control. Defendants cannot serve as a proxy for local election officials against whom the relief should be sought," he said.
But this does beg the question, why are these people so determined to wipe these machines, and the record of their votes, clean?
If there is nothing to hide why would they not volunteer to have the machines subject to a forensic audit to show that there was no fraud?
—————————————-
Have a story you want USA Herald to cover? Submit a tip here and if we think it's newsworthy, we'll follow up on it.
Want to contribute a story? We also accept article submissions – check out our writer's guidelines here.