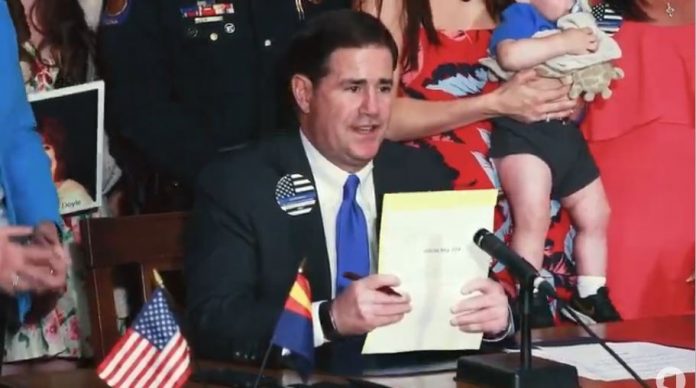 Arizona Governor Doug Ducey signed into law a bill prohibiting drivers from texting while driving across the state to ensure public safety.
On Monday, members of the Arizona Legislature, law enforcement personnel, and advocates of safe driving join the Governor during the signing of HB 2318-Limiting Mobile Device Use While Driving.
HB 2318 prohibits drivers from holding or supporting a wireless device while driving. It prohibits writing or reading text messages, watching, recording, or broadcasting video while driving.
Drivers who will be caught violating the law will pay up to $150 for first offense and up to $250 for second and subsequent offenses. Those who cause a crash resulting in serious injury or death will pay up to $2,500 fine and serve six months in jail.
The law takes effect immediately and the penalties begin on January 1, 2021. Eighty six percent (86%) of likely Arizona voters supported HB 2318.
Arizona joins 47 others U.S. states prohibiting texting while driving.
A common sense solution to prevent tragedy
In his remarks, Ducey said "texting while driving is a deadly combination," noting too many lives lost because of it.
According to the Governor, "Too many families have needlessly grieved the loss of a loved one due to a preventable tragedy. I called on legislators to provide a solution that will save lives — and I am grateful for their efforts to do just that. This legislation takes important, clear and common sense steps to prevent texting and driving. I thank everyone who worked to get this legislation across the finish line and especially the Townsend family for their courage and advocacy."
On the other hand, State Senator Kate Brophy McGee, author of the bill, commented, "Today Arizona takes a critical step toward making our roads safer. Distracted driving is a public health crisis. With this reform, Arizona is ensuring drivers stay focused on the road — not their phones — helping prevent countless tragedies from happening in the future.