Many billionaires are showing interest in Bitcoin (BTC) and have commented on its record-breaking price rallies. On Tuesday, billionaire venture capitalist Chamath Palihapitiya tweeted that he plans to purchase The Hamptons when Bitcoin reaches $150,000. 
Palihapitiya is the founder and CEO of Social Capital. He tweeted that he wants to transform the New Yorkers' favorite summer destination into a better place. "When BTC gets to $150,000, I will buy The Hamptons and convert it to sleepaway camps for kids, working farms, and low-cost housing," he posted. 
When $BTC gets to $150k, I will buy The Hamptons and convert it to sleepaway camps for kids, working farms and low-cost housing.

— Chamath Palihapitiya (@chamath) December 30, 2020
 Furthermore, when asked what he would do if Bitcoin reaches 400,000, the billionaire joked that his next destination is Mars. The comment comes in conjunction with billionaire Elon Musk saying that planet Mars economy will run on Bitcoin in a tweet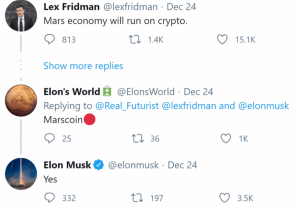 In a recent interview, Chamath admitted that he purchased 1 million worth of Bitcoin in 2010 for about $80 per coin and he didn't confirm whether he still owns the tokens or not. According to Coinbase, if Chamath still owns his BTC, then it will be worth $29 billion. The Bitcoin price skyrocketed to as much as $29,500 on the last day of 2020, making it the hottest year for the cryptocurrency.
What does Chamath Palihapitiya think about Bitcoin?
 Chamath told CNBC in an interview in 2017, that he is expecting Bitcoin to reach $1 million for a single coin. "I think this thing is a $100,000 a coin probably in the next three to four years. And I think, in the next 20 years a million dollars a coin." 
Furthermore, the billionaire venture capitalist said investors should invest at least 1% in Bitcoin "This is now a confidence game. There is no real utility in this. This is a fantastic fundamental hedge and store of value against autocratic regimes and banking infrastructure that we know is corrosive to how the world needs to work properly," Palihapitiya said. "You cannot have central banks infinitely printing currency."
Have a story you want USA Herald to cover? Submit a tip here and if we think it's newsworthy, we'll follow up on it.
Want to contribute a story? We also accept article submissions – check out our writer's guidelines here.