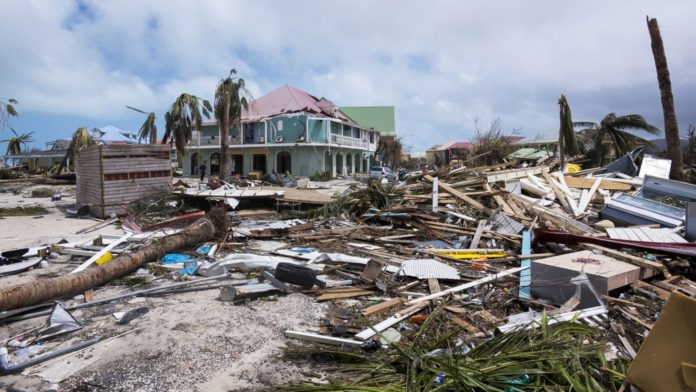 To call the days that followed Hurricane Maria a humanitarian crisis would be an understatement. Once they realized they had escaped the 150 MPH winds, torrential downpour, and flooding, most Puerto Ricans were just happy to be alive. Many awoke to the devastating reality of flooded homes, roads, and bridges underwater, roofs, walls and homes blown away, and no electricity or plumbing and little to no prospects for anything changing anytime soon. Then the reality of 'what next' became apparent and survival became the immediate goal.
Puerto Rico is a place where it can take hours to do simple things like get a driver's license, even on good days and making no excuses for storms or power outages. Puerto Rico's governments at every level are notoriously slow and inefficient at even routine tasks. While FEMA and Governor Rosello have deservedly been lauded for their efforts in the recovery, many citizens, churches, and other civic groups chose not to wait for the government to help their neighbors.
They recognized that regardless of the success and massive support by the federal government and FEMA, there would always be voids and people suffering that government efforts could not reach. That is not a criticism of FEMA; it is a recognition of the challenges of humanitarian efforts anywhere.
A church fills the void and unites a community along the way
USA Herald has found a group of people helping to ease the pain they and their neighbors have endured.  Led by a Pastor and his Presbyterian church, this remarkable group stepped in to fill the void. Trinity-Puerto Rico has provided leadership, love, food, cleaning supplies, diapers, and many, many more items to support its neighbors following the storm. Perhaps more than anything, Trinity and its Pastor, Bruce Clark have provided something that costs nothing to their fellow citizens – and that is hope.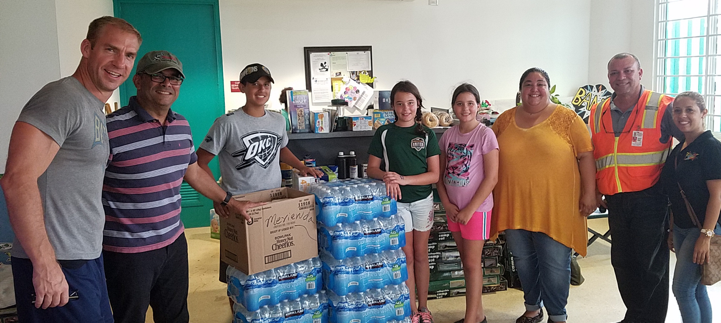 For those who may wonder what void FEMA and government efforts would leave, nearly three weeks after Maria, with one exception, the residents of every neighborhood served by Trinity have said, "You're the first help we've seen." On a regular basis, Pastor Clark's group loads three or four vans with non-perishable food, water, boxed milk, toiletries, and medicine, typically valued between $5 and $10,000.
These goods are paid for by donations. They are taken immediately to either the hardest hit neighborhoods OR various community leaders, social workers, religious leaders, or community organizers, empowering these groups to mobilize volunteers with resources to serve the neighborhoods they know best. This means the right supplies go to the right people, right now.
A third and final destination for these supplies is a pre-arranged destination point where key helpers, volunteers, and social workers can themselves get aid. Volunteers have families and need to eat as well, and Clark found that many of the relief workers are (very understandably) struggling to sustain their own families and loved ones and few were willing to ask for help themselves while they gave supplies to others.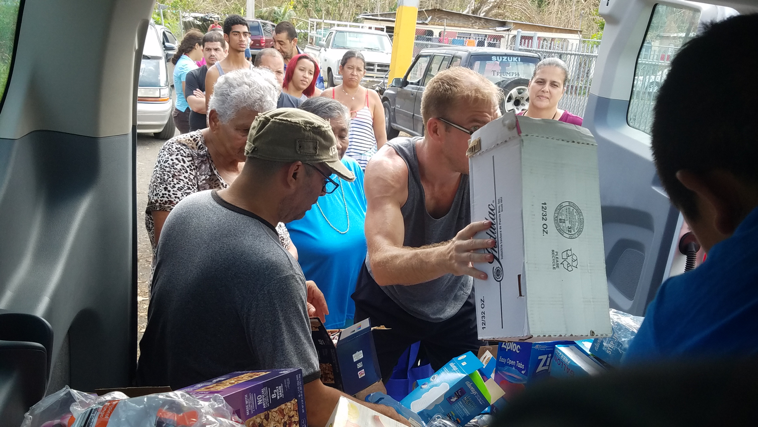 Heroes Emerge
To fully appreciate Trinity Puerto Rico and its remarkable story following Hurricane Maria, one must first meet its Pastor. Perhaps one of the least likely, yet remarkably and perfectly trained men on the island for this task whom, along with his family, friends and his church have brought a remarkable amount of relief and support to their neighbors.
USA Herald is proud to feature the efforts of Trinity, and we hope our readers will find these stories so compelling they will do what they can to help Clark and Trinity do more for our countrymen and women in Puerto Rico as they are still suffering from the aftermath of Maria. To donate to Trinity-Puerto Rico's relief effort, please go to their direct donation link @:  www.paypal.me/trinityPR
Rev. Bruce Clark came to Puerto Rico two years ago to lead an effort to recruit leaders. Trinity-Puerto Rico kicked off with a deep conviction that Puerto Rico-as an island, as a culture, but primarily as a people– has so much to offer the world. Clark notes that Puerto Rico already exercises an undue cultural influence on the world through the performing arts and athletics, that is incredibly disproportionate to its size.
In addition to cultivating a local life-giving community of faith, Trinity-Puerto Rico seeks to mentor the island's many gifted, educated 20-somethings, who are bi-lingual and bi-cultural and who, given the opportunity and encouragement (via mentorship), have the potential to be future cross-cultural leaders in all manner of fields, but especially religious leadership. Their goal: to raise up Latino leaders for the western world.
In the wake of Maria's devastation, Trinity-PR altered its recruiting mission to merely serve the community. Clark wisely took advantage of ready-made relief organizations by utilizing existing networks and enlisting local Puerto Ricans, regardless of their religious views or affiliations to help resource pre-existing regional community centers (refugee centers, community centers, worship centers, etc.) to help distribute and give essential supplies to the hardest hit neighborhoods. Clark empowered these local community leaders who were are already caring for their society and were able to efficiently distribute goods because of their existing efforts to mobilize volunteers and because they already knew who was most in need and how to get them the help they needed.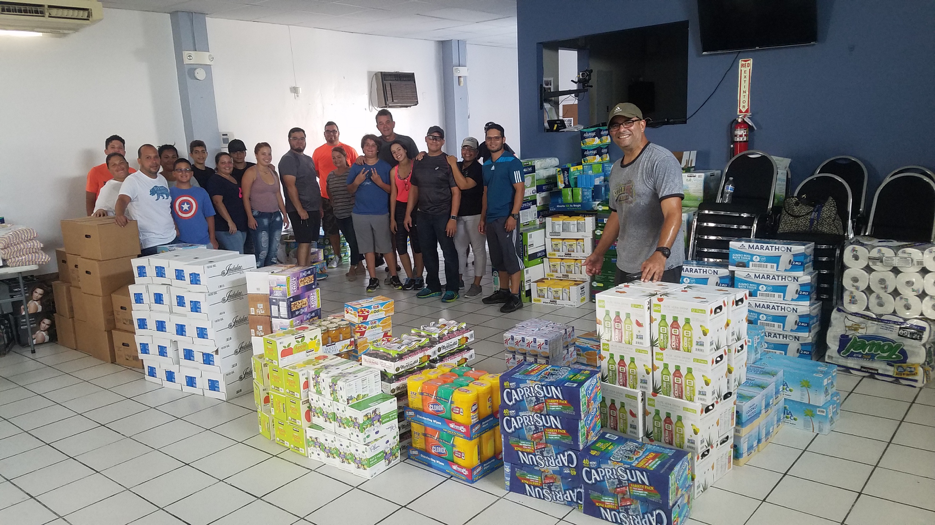 So much to give and so much more needed.
Pastor Clark himself could wear a Superman outfit, and it would not do him justice for his heroic efforts to help his neighbors after Maria. He comes across and acts like "just a guy with a van and some supplies, here to help." His quick smile, warm humility, and ridiculously fit physique, however, reveal that there is a lot more to this man than he wants to let on. Seeing Clark and his fellow church members doing their incredible work of charity makes one forget that he is a graduate of the US Air Force Academy and holds a Ph.D. from Cambridge. Yet, Clark personifies precisely with the USAFA and Cambridge can only hope to produce as graduates. Make no mistake about it; this leader is a hero to many on this island.