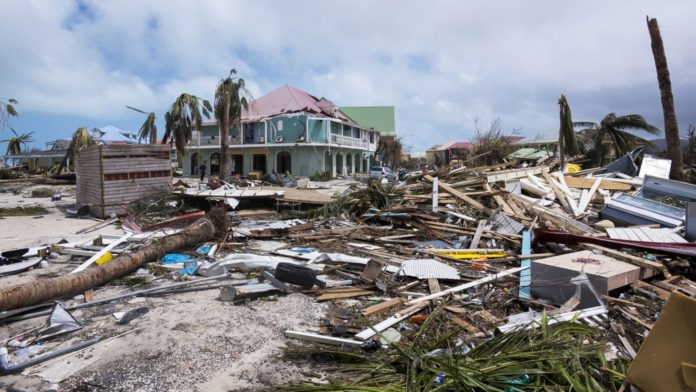 To call the days that followed Hurricane Maria a humanitarian crisis would be an understatement. Once they realized they had escaped the 150 MPH winds, torrential downpour, and flooding, most Puerto Ricans were just happy to be alive. Many awoke to the devastating reality of flooded homes, roads, and bridges underwater, roofs, walls and homes blown away, and no electricity or plumbing and little to no prospects for anything changing anytime soon. Then the reality of 'what next' became apparent and survival became the immediate goal.
Puerto Rico is a place where it can take hours to do simple things like get a driver's license, even on good days and making no excuses for storms or power outages. Puerto Rico's governments at every level are notoriously slow and inefficient at even routine tasks. While FEMA and Governor Rosello have deservedly been lauded for their efforts in the recovery, many citizens, churches, and other civic groups chose not to wait for the government to help their neighbors.
They recognized that regardless of the success and massive support by the federal government and FEMA, there would always be voids and people suffering that government efforts could not reach. That is not a criticism of FEMA; it is a recognition of the challenges of humanitarian efforts anywhere.
A church fills the void and unites a community along the way
USA Herald has found a group of people helping to ease the pain they and their neighbors have endured.  Led by a Pastor and his Presbyterian church, this remarkable group stepped in to fill the void. Trinity-Puerto Rico has provided leadership, love, food, cleaning supplies, diapers, and many, many more items to support its neighbors following the storm. Perhaps more than anything, Trinity and its Pastor, Bruce Clark have provided something that costs nothing to their fellow citizens – and that is hope.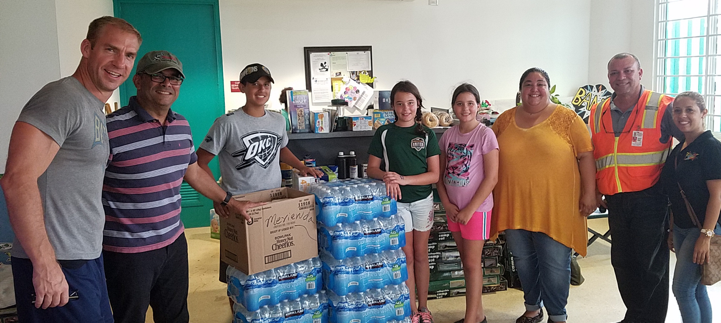 For those who may wonder what void FEMA and government efforts would leave, nearly three weeks after Maria, with one exception, the residents of every neighborhood served by Trinity have said, "You're the first help we've seen." On a regular basis, Pastor Clark's group loads three or four vans with non-perishable food, water, boxed milk, toiletries, and medicine, typically valued between $5 and $10,000.
These goods are paid for by donations. They are taken immediately to either the hardest hit neighborhoods OR various community leaders, social workers, religious leaders, or community organizers, empowering these groups to mobilize volunteers with resources to serve the neighborhoods they know best. This means the right supplies go to the right people, right now.
A third and final destination for these supplies is a pre-arranged destination point where key helpers, volunteers, and social workers can themselves get aid. Volunteers have families and need to eat as well, and Clark found that many of the relief workers are (very understandably) struggling to sustain their own families and loved ones and few were willing to ask for help themselves while they gave supplies to others.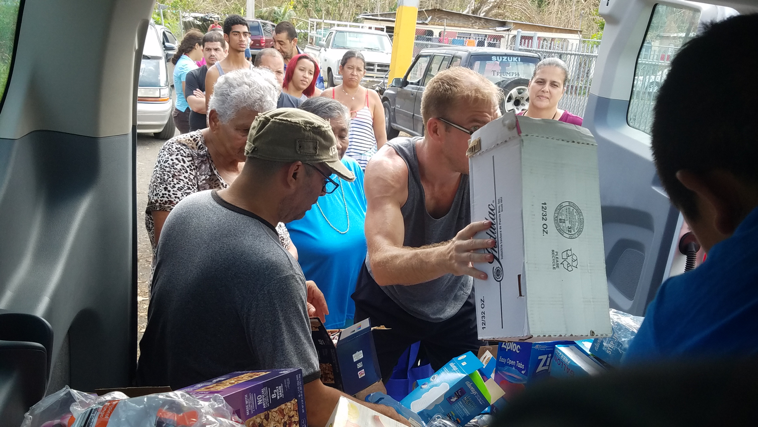 Heroes Emerge
To fully appreciate Trinity Puerto Rico and its remarkable story following Hurricane Maria, one must first meet its Pastor. Perhaps one of the least likely, yet remarkably and perfectly trained men on the island for this task whom, along with his family, friends and his church have brought a remarkable amount of relief and support to their neighbors.
USA Herald is proud to feature the efforts of Trinity, and we hope our readers will find these stories so compelling they will do what they can to help Clark and Trinity do more for our countrymen and women in Puerto Rico as they are still suffering from the aftermath of Maria. To donate to Trinity-Puerto Rico's relief effort, please go to their direct donation link @:  www.paypal.me/trinityPR
Rev. Bruce Clark came to Puerto Rico two years ago to lead an effort to recruit leaders. Trinity-Puerto Rico kicked off with a deep conviction that Puerto Rico-as an island, as a culture, but primarily as a people– has so much to offer the world. Clark notes that Puerto Rico already exercises an undue cultural influence on the world through the performing arts and athletics, that is incredibly disproportionate to its size.
In addition to cultivating a local life-giving community of faith, Trinity-Puerto Rico seeks to mentor the island's many gifted, educated 20-somethings, who are bi-lingual and bi-cultural and who, given the opportunity and encouragement (via mentorship), have the potential to be future cross-cultural leaders in all manner of fields, but especially religious leadership. Their goal: to raise up Latino leaders for the western world.
In the wake of Maria's devastation, Trinity-PR altered its recruiting mission to merely serve the community. Clark wisely took advantage of ready-made relief organizations by utilizing existing networks and enlisting local Puerto Ricans, regardless of their religious views or affiliations to help resource pre-existing regional community centers (refugee centers, community centers, worship centers, etc.) to help distribute and give essential supplies to the hardest hit neighborhoods. Clark empowered these local community leaders who were are already caring for their society and were able to efficiently distribute goods because of their existing efforts to mobilize volunteers and because they already knew who was most in need and how to get them the help they needed.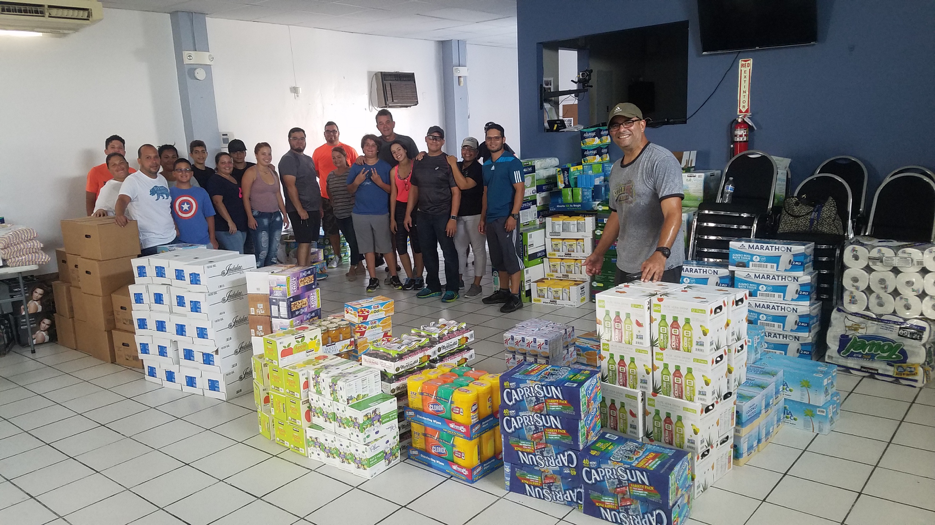 So much to give and so much more needed.
Pastor Clark himself could wear a Superman outfit, and it would not do him justice for his heroic efforts to help his neighbors after Maria. He comes across and acts like "just a guy with a van and some supplies, here to help." His quick smile, warm humility, and ridiculously fit physique, however, reveal that there is a lot more to this man than he wants to let on. Seeing Clark and his fellow church members doing their incredible work of charity makes one forget that he is a graduate of the US Air Force Academy and holds a Ph.D. from Cambridge. Yet, Clark personifies precisely with the USAFA and Cambridge can only hope to produce as graduates. Make no mistake about it; this leader is a hero to many on this island.
Immediately following the storm, Clark started rounding up supplies to give away to people in need. Clark borrowed a large van from a church member who readily offered its use as he and his family were fortunate enough to have left the island before the storm. Clark removed the seats and became his own Amazon delivery man – bringing relief, joy, food, and other daily necessities to those in need. 
Then it was time for Pastor Clark to get serious. After running out of all that he, his friends and churchgoers had to give away, Clark realized the most direct way to find the supplies he needed was simply to buy them from the islands big-box warehouse stores. He has spent nearly every waking moment since Maria giving away provisions, buying more and then begging, cajoling, and borrowing to get more money to buy more supplies only to give them away the next day.
Changing hearts and minds
Pastor Bruce Clark and his church have touched the lives of many, throughout his travels, people have been moved to tears, they have offered thanks and prayers and given Clark and his team a lifetime of rewards merely by the look in their eyes as hope was returned to them. The comments made and heard show the remarkable humility of the Islanders, thankful for the kindness of strangers. Don't try to give Clark much credit for this effort, in his classic humble style; he is quick to point to others to give them credit and point to the broader positive sociological changes these relief efforts are fostering.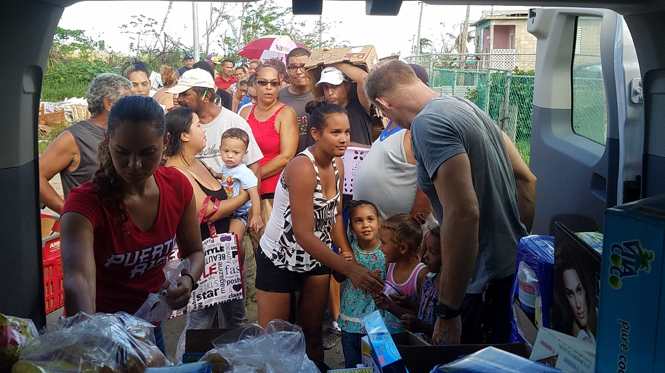 The line is long and never ends, but the gratitude is overwhelming too.
Clark noted:  This is truly a remarkable sociological and logistical phenomenon to see churches, refugee centers, and social workers working together across religious, ideological, cultural, and ethnic lines. None of these factors seem to matter, we just all work together to find solutions to help those in need.
While the politics of Puerto Rico and the US are long and complicated, they are certainly more positive than negative. Most native Puerto Ricans warmly accept their fellow mainland Americans here, either as permanent residents or tourists. But there are distinctions in both language and appearance that can bring opportunity and challenge. Hurricane Maria indeed did not discriminate, and the recovery effort has perhaps done more to unite all Puerto Ricans and remove any distinction of heritage or birthplace in these communities than any plebiscite ever could.
Pastor Clark points to one Puerto Rican volunteer who told him the story of when she was in line at the grocery store, and a local Puerto Rican man began ranting loudly about "gringos" not caring about Puerto Rico. The woman said: 'In that moment, I was forced to choose between group solidarity and cowardess and what I knew was true from my own personal experience. I spoke up: I know a gringo pastor whose church here in Puerto Rico has tirelessly been giving $10,000 a day worth of supplies to the poorest of the poor here, those hardest hit. I've worked with him. Maybe you should too! You know, they're not all the same."
For those looking to change hearts and minds, look no further. Clark is convinced that the American ideals of charity and kindness are alive and well and on full display every day in Puerto Rico.
The stories, one after another, show the kindness, the humanity of us all. An elderly, white-haired man offered biblical thoughts saying: "Blessed is he who comes in the name of the Lord!" A beautiful young mother added, "Thank you so much for being with us in this moment." The sincerity of these comments and the humility offered by those giving thanks is remarkable.
Community leaders have been moved by the efforts of Clark and his church stating: "You are the best thing that has happened to us in these very dark days." Another added: "Thank you, thank you, thank you for not leaving, for not forgetting our people. Thank you for staying with us in this struggle."
Pastor Clark had two elderly men shout to him as he was leaving a neighborhood, "Señor, usted es Boricua!!" ("You, sir, are Boricua!") Translated: "You are a true Puerto Rican!" A senior regional government official told Clark last week: "You can't imagine how deeply you all have touched our community's heart in these days."
We may see overzealous politicians taking advantage of storms on the evening news, but where the rubber meets the road is in the neighborhoods of Puerto Rico where Bruce Clark and Trinity Puerto Rico toil each day. Away from the TV cameras and unwilling to give even our reporter too much access because the stories can be too sad, too happy and too deeply personal to cover.
Puerto Rico remains a very religious place, contradicting the changes affecting most of the rest of the world. It celebrates religious holidays, sometimes for days and Puerto Rican's remain unbashful about dancing, singing and praying. Puerto Rican citizens are predominantly Christian, and the Church's long history here is a still apparent. The relief effort has shown the very best of all Puerto Rican's and those in service to God have made a significant effort to help their fellow men and women. Puerto Rican's are not afraid to thank the Church either! A man passing Clark's team in a car shouted: "Who are you guys?" to which they responded: "We are the church, the people of Jesus," and he said, "Really?! Wow, the church has come here before anyone else."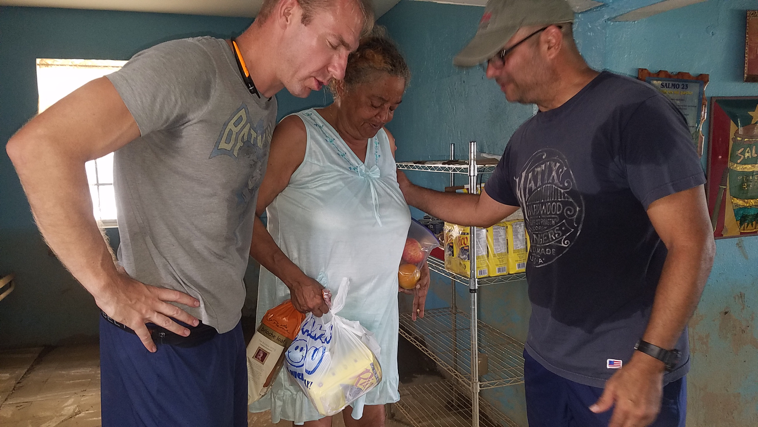 A young man stopped Pastor Clark and said: "You and your people are Jesus in action." Yesterday a man said, "Wow, God has been so good to us through your help." These are reflections of humanity at its most vulnerable, and humans welcoming and thanking God in their worst of times for God's grace. These are indeed remarkable reactions from people worried about today because tomorrow is just too far away.
A practical approach to filling needs
These stories are not just about food, connections, and water but other necessities that we tend to forget. Always mindful of their budget constraints and limitations on donations, Trinity tries to provide food and supplies in a way that balances cost and quality. The team found a great buy on Tresemme shampoo and conditioner. As they were handing it out they noticed that several the women recipients were beside themselves; one lady choked up in disbelief and gratitude and asked, "Are you really giving shampoo to me?" Clark also notes a lovely elderly woman who simply said to the volunteer team: "I Love you!!" Later, a man with tears in his eyes, "Thank you for helping my family." As they had finished a day of distributing supplies, a woman recipient asked: "Are you gonna still give more to others? Please don't stop!" Despite their own needs, the very best of humanity shines.
Perhaps Pastor Clark's favorite story is when a man very early in the recovery efforts, clearly a husband and father (he had a little girl in his arms, and his wife was nearby), approached Clark and his volunteers about half-way through their distribution effort, with profound grief and gratitude on his face, and firmly shook Clark's hand. Then about 15 minutes later he came back again, gently nodding his head in sincerest appreciation, and he shook Clark's hand again. Then as the group was leaving the man quickly walked up, hesitated, and then shook Clark's hand yet again, vigorously, clearing his throat and fighting back the tears. These two former strangers' eyes met, they connected on a deep and visceral level, neither said a word, yet were together. Pastor Clark didn't want to leave.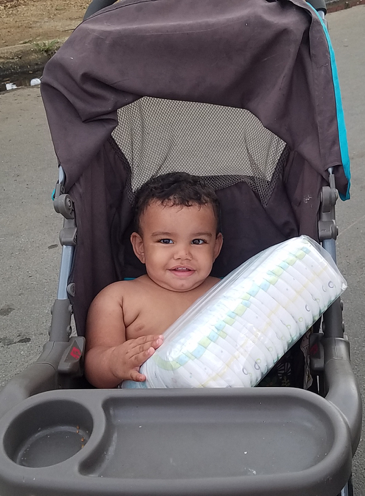 You Can Help Trinity Help Others
These are the stories of everyday men and women who are heroes to other ordinary men and women for simple acts because they are in a place to help.
If you are in a place to help, please visit Trinity-Puerto Rico's Facebook page and give what you can. Click HERE for a direct link to donate. Pastor Bruce Clark has committed all funds raised to go directly to the relief effort providing diapers for babies, milk to children, and necessities to our fellow Americans in Puerto Rico. Please do what you can to help Clark help our fellow-Americans in Puerto Rico.
To donate to this tax-exempt organization, please visit Trinity Puerto Rico's Facebook Page Here or donate directly via Trinity-Puerto Rico's PayPal donate link HERE.  Additional information about Trinity-PR is provided  on thier Facebook Page by clicking HERE