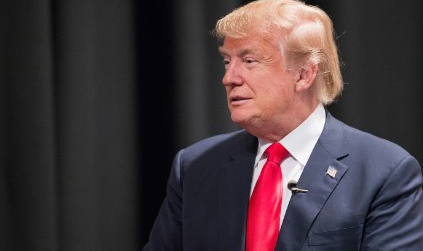 Earlier today, Maryland and the U.S. Capital filed an inane lawsuit against President Trump. Apparently, they feel as though he is breaching the law since his luxury hotels and office towers are receiving funds from foreign governments and businesses. Are the people filing this lawsuit not aware that President's businesses are currently being overseen by his grown children? President Trump has not broken any laws; although it appears his critics would like for him to complete shut down his hotels, golf courses, and other businesses while he serves as Commander in Chief. Their lawsuit is completely baseless and unfounded and will be thrown in the garbage where it belongs sooner or later.
The specifics of the lawsuit allege that since the Trump International Hotel DC, Trump Tower, and Trump International Tower New York are profiting from a certain percentage of non American dollars, the President is somehow violating the regulations of the Constitution which halts Presidents from "enriching themselves" while in Office. Washington Attorney General Karl Racine wrongly asserted that President Trump is not "adequately distancing himself" from his proceeds. Perhaps Racine was not present when Mr. Trump resigned from his businesses shortly before his inauguration and turned title, authority, and management over to a trust fund controlled by his two eldest sons, Donald Trump Jr. and Eric Trump. It always helps to be aware before making public declarations.
The newest lawsuit against President Trump is a gross manifestation of an underlying issue that plagues America. Too many people, mainly leftists, subscribe to the ideology that punishing success is helpful and appropriate, especially when regarding conservative or Republican Americans. Despite the beliefs of many people, nobody is entitled to someone else's hard earned money. People have to work for what they want and employ strategies to move up in the world. Taxing the rich into poverty will never work. Punishing success innately enables failure.
The President's decision to turn over his businesses to his adult children should clear him from any and all charges. On January 19, a resignation letter containing a list of hundreds of businesses was signed by President Trump and presented to the proper persons. As White House Press Secretary Sean Spicer stated, "He [President Trump] has gone above and beyond in what he has done to make sure there are no conflicts." If Hillary Clinton were President, this lawsuit would be non existent. Furthermore, the President's proven record of resigning from his plethora of businesses should have been enough evidence to halt the silly lawsuit before it began, but this is about politics and hatred of the President, not law and order.
President Trump will undoubtedly be cleared of any and all charges filed against him. Maryland and the U.S. Capital truly have done research before filing their lawsuit. The documented proof of President Trump's resignations serves as sufficient proof that he is not breaching any Constitutional laws by gaining profit from his businesses. Donald Trump Jr. and Eric Trump have full responsibility and control of any and all funds being received from Trump International Hotel DC, Trump Tower, and Trump International Tower New York.