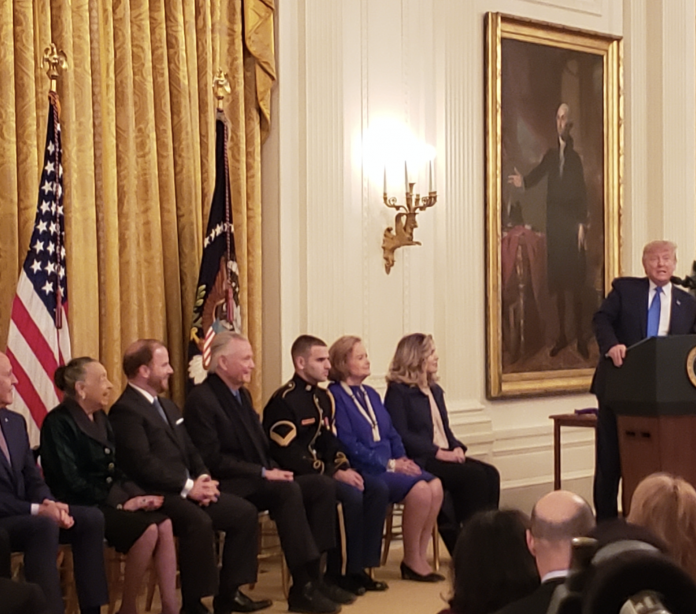 On Thursday, USA Herald staff writer Gabrielle Seunagal traveled to the White House to witness President Trump bestow the National Medals of Arts and Humanities to worthy recipients.
Everything You Need to Know About the Ceremony
The president gathered with White House staffers, members of the press, and others in the East Room. Prior to bestowing the National Medals, Trump lauded the recipients' contributions to American culture and arts. Shortly thereafter, the president prefaced his awarding of the medals by noting the positive outcomes of great nations.
In Trump's own words:
"Great nations produce great thinkers, artists, musicians, and scholars. […] Each of today's recipients has made outstanding contributions to American society, culture, and life." 
The recipients honored by President Trump were Jon Voight, Sharon Rockefeller, James Patterson, Alison Krauss, Patrick O'Connell, Ryan Williams, and Teresa Lozano Long.
At the White House covering live #USA pic.twitter.com/3TBEkyRtR4

— USAHerald (@RealUSAHerald) November 21, 2019
Voight's work in cinema earned him accolades from President Trump as "one of America's greatest living legends". Rockefeller's work in public broadcasting and the arts prompted praise from the president who also lauded Patterson's success as a bestselling fiction writer.
Trump praised Krauss' work throughout her music career and O'Connell for his culinary skills and successful, entrepreneurial endeavors in the restaurant industry. Finally, the president cheered Williams' contributions to conservativism via the Claremont Institute and Long's work in philanthropy, education, and the arts.
Covering live at The White House pic.twitter.com/tDlZ8sKLDx

— USAHerald (@RealUSAHerald) November 21, 2019
After acknowledging the contributions and successes of each recipient, the president paid homage to musicians within the United States military. Trump noted the positive impact which their sound has for so many servicemembers.
"They touch the hearts of servicemembers of the frontlines, wounded veterans in hospitals, Gold Star families at military funerals, and Americans everywhere."
The Immediate Reception and More
Those who gathered in the East Wing heartily cheered for the recipients of the National Medals of Arts and Humanities. Trump's remarks also drew applause and occasional laughter at certain points.
Prior to the president's arrival, U.S. military musicians played instrumental music for roughly 30 minutes to one hour. Gatherers within the East Room responded positively to the music and energetically applauded between different pieces.
The military musicians left the floor shortly before President Trump's entry.