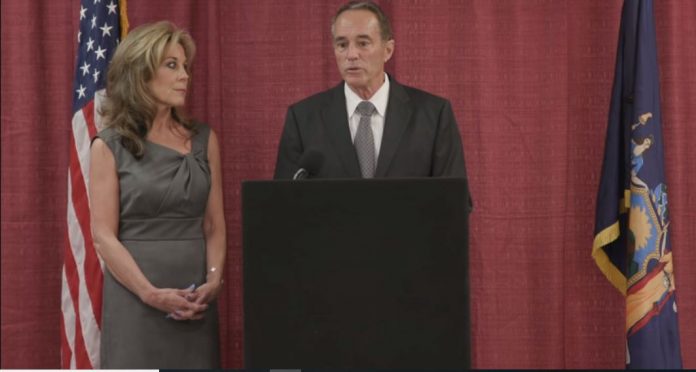 Republican U.S. Representative Chris Collins of New York vowed to fight the insider trading charges against him and win re-election.
"The charges that have levied against me are meritless, and I will mount a vigorous defense in court to clear my name," Collins said during a press conference.
The Republican lawmaker promised that he "will continue to work hard" for his constituents while clearing his name." He also stated that he "will remain on the ballot running for re-election this November."
On Wednesday, federal prosecutors filed insider trading charges against Collins, his son Cameron and Stephen Zarsky. They also charged the defendants with conspiracy, securities fraud, wire fraud and making false statements to the FBI.
The charges are related to the securities of Innate Immunotherapeutics, an Australian pharmaceutical company. Collins served as a member of the company's board of directors.
Allegations against Rep. Collins
In the indictment, prosecutors alleged that Collins provided his son and others confidential drug trial results before its public announcement. They say his son, Zarsky, and others traded based on the insider information and avoided suffering losses totaling approximately $768,600.
When the FBI interviewed Collins and the other defendants, they lied to cover up their participation in the insider trading, according to the indictment.
In a statement, U.S. Attorney Geoffrey Berman said Collins "helps write the laws" of the U.S., but he "acted as if the law did not apply to him." He added that the charges against the lawmaker are a "reminder that this is a nation of laws."
Furthermore, Berman emphasized that they are dedicated to pursuing justice without fear or favor, no matter who committed a crime.
"Collins cheated our market and our justice system in two ways," Berman said. "First, he tipped his son to confidential corporate information at the expense of regular investors. And then he lied about it to law enforcement to cover it up."
Collins and the other defendants pleaded not guilty to the charges against them at the federal court in Manhattan.