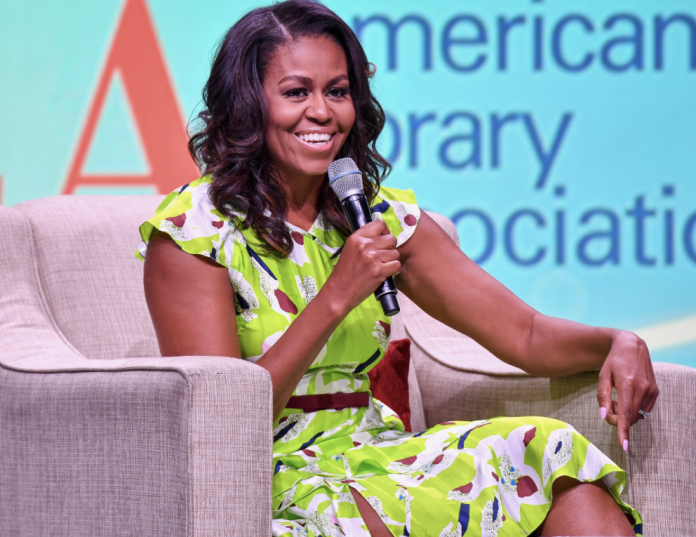 Towards the end of last week, Michelle Obama spoke about her upcoming memoir, reports The Hill.
An Overview of the Forthcoming Memoir
The former First Lady's memoir is titled 'Becoming' and will hit bookshelves in November 2018. Obama spoke in New Orleans, Louisiana to an audience at the American Library Association on Friday. Her remarks during the conference asserted that Becoming will address what Obama describes as an "ordinary" journey. Furthermore, the memoir is also designed to "re-humanize" struggling Americans.
Throughout her ALA speech, Obama discussed her time in the White House, her mother Marian Robinson, and Robinson's subsequent impact on Obama's daughters, Malia and Sasha:
"She's the one who taught my girls how to do laundry. She keeps us humble and focused on what's important. [Obama's mother] also my sounding board. She'll sit and just listen and then ask me, 'What do you think you should do about that?'"
The former First Lady then proceeded to talk about her own childhood. She affirmed that her mother and father encouraged she and her brother to share opinions and also partake in resolutions.
Shortly thereafter, Obama discussed her "big jobs" and academic credentials. She also talked about having to balance her career with her husband's. Notable remarks regarding the aforesaid matters read as follows:
"I had big jobs: I went to Princeton [and] Harvard. I am a lawyer. But as Barack's ascent got faster and higher, I had to figure out and balance marriage and balance becoming a spouse."
Finally, the former First Lady spoke to mothers. She stated that women are not designed to parent without a support system, noting that "it truly takes a village to raise children."
America's Thoughts About 'Becoming'
The Obamas have considerably high favorability amongst Democrats and left-leaning individuals. Conversely, the opposite perception is applicable amongst Republicans and right-wingers.
Readers of The Hill weighed in with their thoughts regarding Michelle Obama's speech and upcoming memoir:
"Michelle Obama cares, unlike the current first lady."
"NOT SCARED OF MICHELE OBAMA! JUST SICK OF HER!"
"These two were pampered and privileged and never held real jobs in their lives, parlaying their skin color into undeserved positions in politics and academia."