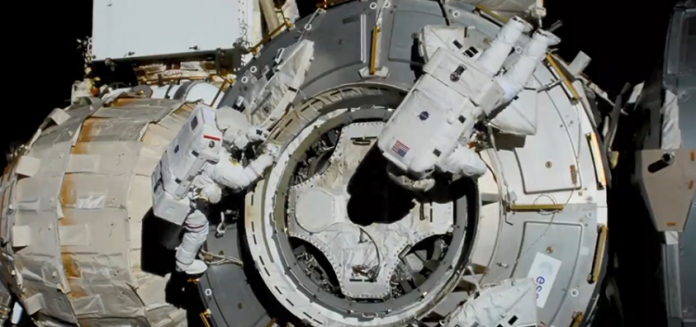 SpaceX made history in May when its Crew Dragon capsule launched into space carrying two American astronauts. It was the first time a privately owned company put a human into orbit.
This joint NASA-SpaceX alliance brought human spaceflight back to America after almost a decade and marks the beginning of a new type of space program. But it's the ability to do it cheaper and better by partnering with the private sector that is important for the future of NASA's space programs. 
NASA depends on federal dollars
The historic Crew Dragon missions represent a huge success for NASA's Commercial Crew Program (CCP), NASA's $6.2 billion private-public partnership. The CCP provided funding for and guided the development of the Dragon capsule. 
NASA is a federal agency and receives its funding annually from the federal budget. The NASA budget is smaller than other federal agencies and has continued to shrink over the years. 
Other U.S. government agencies also have "space-related" provisions in their budgets, which contribute to certain NASA programs and missions. But overall, there has a been a shift away from spending federal dollars on space programs.
Public-private partnership born of necessity
The NASA-SpaceX partnership took off at a time when NASA's budget was dwindling due to sequesters and cutbacks. 
The Obama administration effectively canceled the Constellation deep space exploration program in the 2011 federal budget. The administration's plan, much criticized at the time, was released in 2010. It proposed that NASA pay private companies to develop commercial spacecraft to transport astronauts to and from the ISS.  
The aim was to open up NASA once again to become "an engine for innovation, that will spur the development of commercial industry in low Earth orbit."
In 2011, ending the shuttle program put a spotlight on NASA's problems. Without an operational shuttle, the U.S. didn't have a manned spacecraft program. Without shuttle service, U.S. astronauts were buying rides to the ISS, on Russia's spacecraft which cost more than $80 million per seat. 
The private industry, SpaceX in particular, was there to fill some of the gaps left by ending the shuttle program. Over two decades NASA has awarded SpaceX and other private partners several lucrative contracts, including developing new spacecrafts. SpaceX was also contracted to transport cargo and astronauts to the ISS. 
Under NASA's CCP, SpaceX received $3.1 billion to fund the development of the Crew Dragon capsule. Their competitor, Boeing, received a $4.8 billion contract to develop the Starliner. In comparison, it's estimated that NASA's inflation-adjusted costs were $900 billion through 2011 when the space shuttle program ended.
Elon Musk's SpaceX is a game-changer
In his 2017 Congressional testimony, Elon Musk, SpaceX founder and visionary, suggested that the NASA Space Act Agreement, which allows NASA to contract with outside agencies and private companies, was responsible for "setting only a high-level requirement for cargo transport to the space station [while] leaving the details to industry."
On this basis, SpaceX was able to design and develop both Falcon 9 rockets on its own. And the result was a substantially lower cost. 
NASA's own independently verified numbers estimated SpaceX's total development cost for the Falcon rockets at $390 million dollars for both. In 2011, NASA estimated that it would have cost the agency about $4 billion to develop a rocket like the Falcon 9 booster based upon NASA's traditional contracting processes, about 10 times more.
By March 2018, SpaceX had contracts for 100 launch missions. The new era for NASA includes a reliance on commercial space companies for routine missions and saves NASA resources for internal and operational costs.
Public-private investment pays off, says NASA
NASA's innovation with private sector companies, especially SpaceX, impacts the financial viability of space travel in the future.
NASA CFO Jeff DeWit spoke to CNBC about how having more companies involved in the space station will "lower the cost and lower the risk" of doing business in outer space.
"The investments that we have made into SpaceX and the investment SpaceX has made in itself have really resulted in I think something that is going to be very beneficial, not just for human space exploration, but beneficial for the economy," said Jim Bridenstine, NASA's administrator. "Commercial Crew is going to demonstrate cost savings if you compare it to the Space Shuttle. We're very pleased with the level of investment that we've made and what we're getting for that investment."
Lower risks and lower costs in the space economy
With the NASA partnership that has evolved with the private sector, NASA expects to "lower costs and lower risks of doing business in outer space." 
Jeff DeWit describes the expected boom to NASA, the economy, and commercial partners as a win-win. 
"How you drive that is based on what we're doing now, which is trying to now prove the concepts and get the commercial sector involved," DeWit said. "The only outcome for this is a positive, not only for NASA but for the space economy for private companies."
————————————————–
Have a story you want USA Herald to cover? Submit a tip here and if we think it's newsworthy, we'll follow up on it.
Want guaranteed coverage? We also offer contract journalism here.  Just be sure you're comfortable giving up editorial control, because our journalists are dogged and will follow the story through to it's conclusion. The story will be published to our exacting standards, without regard for your preferred slant.
Want to contribute a story? We also accept article submissions — check out our writer's guidelines here.