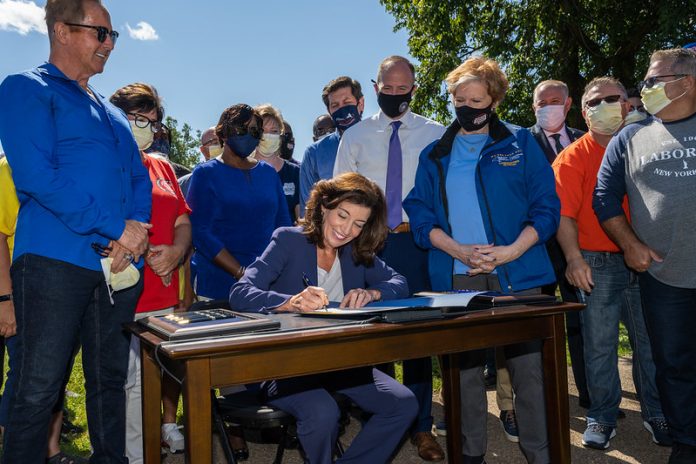 New York Governor Kathy Hochul signed four pieces of legislation to improve the safety of workers in their workplace and to eliminate wage theft.
"These bills will make sure workers are paid fair wages, receive good benefits, and stay safe on their worksites. Our state is home to a long and proud legacy of supporting working New Yorkers, and we're working to bolster that for the future," said Gov. Hochul on Labor Day.
The Governor also noted that on Labor Day, "we are reminded of the  of the vital contributions of organized labor to building New York."
The four newly-signed legislation include:
S.4682-B/A.485 authored by State Senator Tim Kennedy and Assemblymember William Magnarelli. This law aims to ensure the safety of workers responsible for improving and maintaining New York's highways. It authorizes the establishment of a demonstration program implementing speed violation monitoring systems in work zones using phoyo devices. It also relates to the issuance of notices of liability, and the adjudication of certain traffic violations involving the use of photo monitoring devices.
A.3350-A/S.2766-C authored by Assemblymember Latoya Joyner and State Sen. Jessica Ramos to eliminate wage theft. This law makes contractors jointly liable to wages owed to employees by their subcontractors on construction projects. It also allows contractors demand payroll information from subcontractors and withold payment if the information is not provided.
S.6350-A/A.7434-A authored by State Sen. Brian Benjamin and Assemblymember Carmen De la Rosa. This law requires the payment of prevailing wage to building service employees at co-ops and condos that receive tax abatements under section 467a of the tax law. It applies to buildings with an average unit assessed value of more than $60,000, with the exception of buildings that have an average unit assessed value of $60,000 to $100,000 and have fewer than 30 units.
S.4049/A.5678 authored by State Sen. Jessica Ramos and Assemblymember Latoya Joyner. This law extends the cap on Shared Work Benefits from 26 straight weeks to an amount of time equal to 26 weeks' worth of benefits. Under current law, claimants can only receive 26 weeks of benefits, regardless of what the claimant's maximum benefit entitlement is under UI. The new law allows claimants to collect the reduced UI benefit under a Shared Work Program until they have hit their maximum benefit amount under traditional UI.
Comments from Labor Union Leaders
Mario Cliento, the president of New York State AFL-CIO commented that Gov. Hochul delivered on her promise to work with the Legislature and Labor unions by signto into law the four pieces of legislation that will improve the lives of workers.
On the other hand, Kyle Bragg, president of the SEIU Local 32BJ said, More than 2,000 building service workers who risked their lives to keep New Yorkers safe during the COVID-19 pandemic will finally start earning wages that can sustain their families."
Meanwhile, New York City District Council of Carpenters Executive Secretary-Treasurer Joseph Geiger said, "For years, exploited workers have been ripped off by greedy contractors with nowhere to turn. This legislation will ensure every construction worker in New York is protected from wage theft."
—————————-
Have a story you want USA Herald to cover? Submit a tip here and if we think it's newsworthy, we'll follow up on it.
Want to contribute a story? We also accept article submissions — check out our writer's guidelines here.