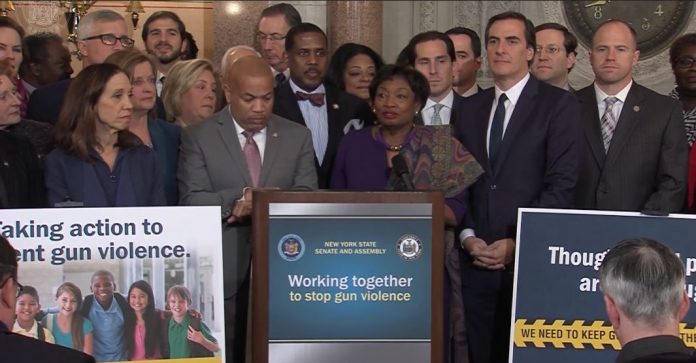 The New York State Legislature passed a package of legislation to help prevent and reduce gun violence.
On Tuesday, Governor Andrew Cuomo called on the state legislature to pass a bill to keep guns away from mentally ill and other potentially dangerous persons. He also called for the passage of legislative proposals to ban bump stocks and extend the waiting period for those purchasing a gun.
In response, New York State Assembly Speaker Carl Heastie and Senate Majority Leader Andrea Stewart-Cousins announced that they will pass legislative reforms to protect New Yorkers from gun violence.
New York State is leading the nation on smart gun laws
In her remarks, Stewart-Cousins said studies showed that states with stronger firearms safety laws like New York have fewer deaths caused by guns. She noted that the last time the legislature passed gun safety legislation was in 2013.
"After this long wait, we are finally going to once again lead the way and serve as an example to our nation on smart gun laws," said Stewart-Cousins.
Additionally, she said, "Let's be clear, we absolutely respect the Second Amendment but it doesn't mean that we should allow dangerous people to have firearms. It doesn't mean we should allow loopholes that make background checks meaningless or create even more dangerous weapons."
On the other hand, Heastie said, "In 2017 alone, almost 40,000 people were killed by a gun in the U.S., 772 of those happened here in New York State. On average, eight children and teens die every day from gun violence… I refuse to accept that as the cost of unfettered access to guns.
Common sense gun safety legislation
The legislature passed the Red Flag Bill to allow courts issue an extreme risk protection order (ERPO) prohibiting a person who is determined to a threat to himself/herself and to others from buying or possessing a gun.
In addition, the legislature approved two legislative proposals that would ensure comprehensive background checks for gun owners in the State of New York.
The first proposal requires a seller to wait 30 days before he/she can sell a gun to a person to make sure that the background is clear.
The second measure requires out of state citizens who have homes in New York and applying for a firearm license to waive the confidentiality of their mental illness records in their home state.
Furthermore, the legislature passed a legislation prohibiting the possession, manufacture, transport, shipment and sale of devices like the bump stock that increases the firing rate of firearms.
Moreover, it approved a bill establishing a Municipal Gun Buyback Program, allowing individuals to report and turn in illegal firearms. Participants in the program will receive immunity on certain criminal charges and monetary rewards. The New York State Police will be responsible for administering the program.