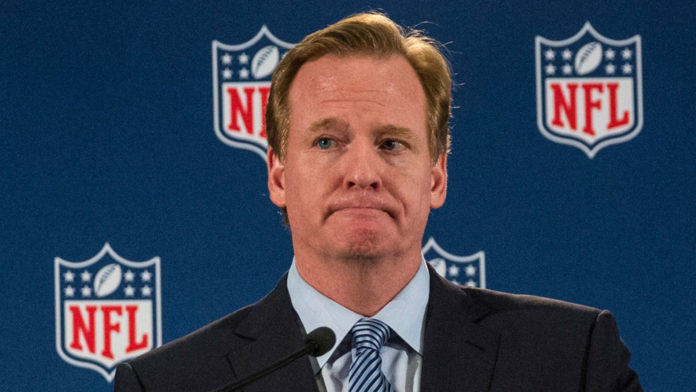 During this dramatic start to football season with players kneeling during the national anthem, the NFL has largely stayed silent.
That changed yesterday when NFL Commissioner Roger Goodell sent a letter to all 32 teams. Goodell lamented that the current controversy is "threatening to erode the unifying power of our game." "Like many of our fans, we believe that everyone should stand for the National Anthem," he added.
The national anthem controversy began last year when Colin Kaepernick (then-quarterback for the San Francisco 49ers) kneeled during its playing.
Pressure from Washington
The drama has caught the attention of the White House. President Trump has weighed in on Twitter. Trump even ordered Vice President Pence to leave a recent Indianapolis Colts game if there were players kneeling. The trip for Pence cost taxpayers $250,000.
President Trump again used Twitter on Tuesday to propose hitting the NFL with tax penalties for players not standing. "Why is the NFL getting massive tax breaks while at the same time disrespecting our Anthem, Flag and Country? Change tax law!"
Taking its Toll
NFL ratings have been in decline for sometime. The first two weeks of this season saw ratings down 7% percent compared to the year prior.  Politically charged games certainly aren't helping the NFL get more viewers to tune in. Ratings for Sunday Night Football on October 8th were down 3% from the week prior, a season low.
As more people tune out due to the protests, more people have been cutting the cable cord for years already. ESPN has lost 11 million subscribers, 10% of its viewers, since 2011.
Patriotism in the NFL
Football players being present for the national anthem is a recent practice. It was only in 2009 that players were encouraged to be present on the field for the Anthem.
The Department of Defense, it turns out, has a practice of paying the NFL for patriotic displays and events. The department spent $10.4 million in "marketing and advertising contracts with professional sports teams" between 2012 and 2015. Paid activities include enlistment ceremonies, providing national anthem singers, and color guard performances. Senator John McCain, who co-authored a report on the manner, wrote that "fans should not be unknowing viewers of a paid-marketing campaigns."
The Defense Department's involvement in paid patriotic ceremonies casts a new light on the controversy surrounding players kneeling for the anthem. The NFL has since severed (in 2015) its relationship with the Defense Department in this matter, after pressure from Congress. In 2016, the NFL actually refunded over $700,000 in tax payer funds used back to the Defense Department.