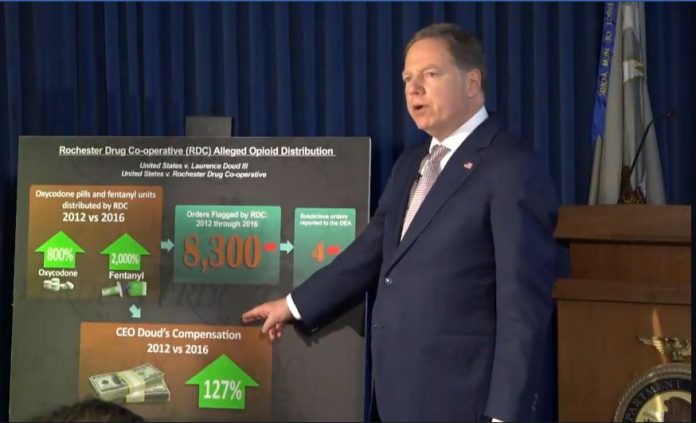 Rochester Drug Co-Operative, one of the ten largest pharmaceutical distributors in the United States, agreed to pay $20 million in penalty to settle the criminal charges against it.
Under the settlement, Rochester Drug Co-Operative also agreed to accept responsibility for its conduct.  Additionally, the New York based pharmaceutical distributor agreed to change and improve policies to comply with the Controlled Substance Act and submit to supervision by an independent monitor.
The federal government agreed to defer prosecution for a period of five years assuming Rochester Drug Co-Operative's continued compliance with the settlement.
In a statement, the pharmaceutical distributor said it will pay the $20 million penalty over a five-year period. Its new management team is making significant changes focused on compliance.
Its spokesman Jeff Eller said, "We made mistakes…and understands that these
mistakes, directed by former management, have serious consequences. We accept responsibility for those mistakes…Not only do we pledge to honor the letter and spirit of these agreements, we are also putting into place a world-class compliance program."
Allegations against Rochester Drug Co-Operative and former executives
The U.S. Attorney's Office for the Southern District of New York filed a criminal complaint against Rochester Drug Co-Operative, its former CEO Laurence F. Doud III, and former chief compliance officer William Pietruszewski.