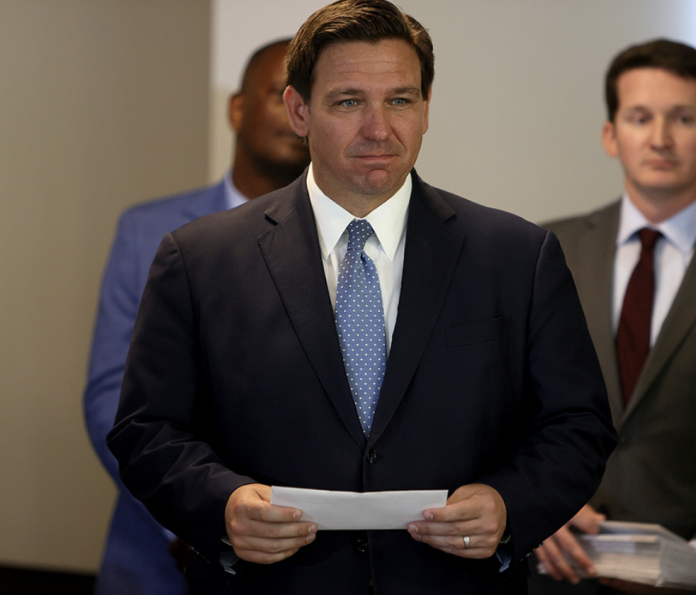 This month marked a very successful win for Republicans in the Virginia gubernatorial election. Glenn Youngkin, a businessman turned GOP candidate, went on to beat Terry McAuliffe and become the governor-elect of Virginia.
Other states have gubernatorial races coming up in 2022. One of America's most famous governors of all, Florida's Ron DeSantis, is up for re-election in 2022.
DeSantis has become a household name after repeatedly pushing back against the leftist agenda to trample over Americans' freedoms and use coronavirus as a trojan horse to do it.
The leadership of the Florida governor has simply paid off. Florida Republicans quite recently exceeded Florida Democrats in the number of registered voters; yet, when DeSantis first commenced his term, Democrats outnumbered Republicans by 280,000.
Now, a brand new poll shows DeSantis is handily beating every single Democrat seeking to replace him as Florida's governor.
A smooth path to re-election for Governor DeSantis
Looking at the data from Saint Leo University makes it quite plain Floridians are proud of their governor and have every intention of re-electing him in 2022.
Nikki Fried, Annette Taddeo, and Charlie Crist are the Florida Democrats eager for DeSantis' job. At this time, DeSantis has a 13 point lead over Fried, a 19 point lead over Taddeo, and a 12 point lead over Crist.
2022 #FLGov General Election Poll:

Ron DeSantis (R-Inc) 47% (+12)
Charlie Crist (D) 35%
.
Ron DeSantis (R-Inc) 46% (+13)
Nikki Fried (D) 33%
.
Ron DeSantis (R-Inc) 47% (+19)
Annette Taddeo (D) 28% @SaintLeoPolls ~ 500 Adults ~ 10/17-10/23https://t.co/kkF624Zkhr

— PollTracker (@PollTrackerUSA) November 4, 2021
Florida Democrats have repeatedly taken shots at DeSantis, stating he should implement mandates and disregard the rights of Floridians. However, Governor DeSantis has made it clear Florida will remain a free state.
Furthermore, Florida is actually one of several states suing the Biden administration over its illegal COVID vaccine mandates for federal contractors and workers in businesses with 100+ staffers.
In a nutshell, the aforementioned poll shows Florida Democrats don't have a chance of unseating DeSantis next year.
Another critical blow to Florida Democrats
The above poll already speaks volumes; however, during this month alone, it's come out the Democratic Governor's Association (DGA) will not financially aid Democrats in their work to remove DeSantis from office.
As it turns out, the DGA has determined DeSantis cannot be beaten at this time. Therefore, they are choosing to direct their funds towards additional gubernatorial elections happening in America.
Meanwhile, DeSantis already has tens of millions in the bank, months ahead of the 2022 gubernatorial election.