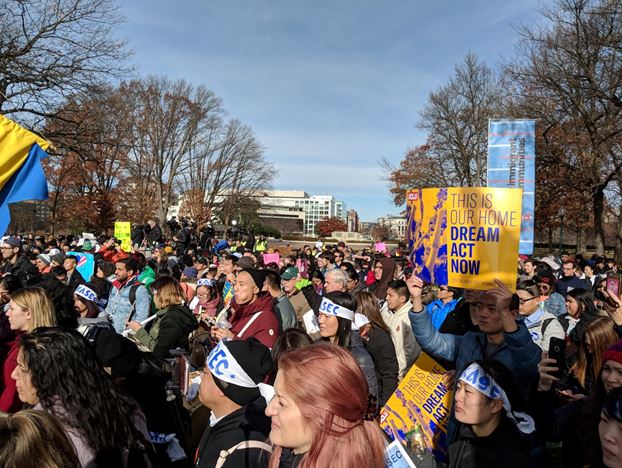 A federal court granted a motion for a preliminary injunction to stop President Donald Trump from ending the Deferred Action for Childhood Arrivals (DACA) program.
On September 5, the Trump administration announced its decision to rescind DACA, which protects approximately 800,000 Dreamers from deportation. The program is set to expire on March 5. President Donald Trump challenged the Congress to fix the program.
A group of 17 attorney generals led by New York AG Eric Schneiderman immediately filed a lawsuit to protect Dreamers and preserve DACA.
The conclusion that DACA was unconstitutional was "legally erroneous"
On Tuesday, Judge Nicholas Garaufis of the U.S. District Court for the Eastern District of New York ruled that the attorney generals are entitled to a preliminary injunction.
In his ruling, the judge stated that U.S. Attorney General Jeff Session was wrong in concluding that DACA was unconstitutional. Sessions' determination was "legally erroneous" and the decision to end the program was "arbitrary and capricious."
Judge Garaufis explained that the program did not violate the Constitution "simply because it was implemented by unilateral executive action…"  Additionally, the judge said "the Executive Branch has wide discretion not to initiate or pursue enforcement actions."
He ordered the Trump administration to "maintain the DACA program on the same terms and conditions that existed prior to the promulgation of the DACA Rescission Memo."
However, the judge made it clear that the order is subject to limitations. The Trump administration does not need to consider new applications for DACA. It does not need to continue granting advance parole to the beneficiaries of the program. It may adjudicate renewal requests on a case-by-case individual basis.
Last month, Judge William Alsup of the U.S. District Court for the Northern District of California ordered a nationwide preliminary injunction to block the decision to rescind DACA.
A victory for Dreamers
In a statement, AG Schneiderman said the court's ruling is a victory for Dreamers across the country. New York has more than 42,000 Dreamers.
According to him, "Federal courts from coast to coast have now reviewed the record and reached the same conclusion: President Trump's decision to rescind DACA was illegal."
Additionally, AG Schneiderman said, "There is much more work ahead to permanently preserve DACA…We look forward to continuing the fight moving forward."
Last month, Pres. Trump said a solution to fix the program should be a "bill of love."  He also stated that he supports a pathway to citizenship for 1.8 million Dreamers in exchange for $25 billion fund for border security.