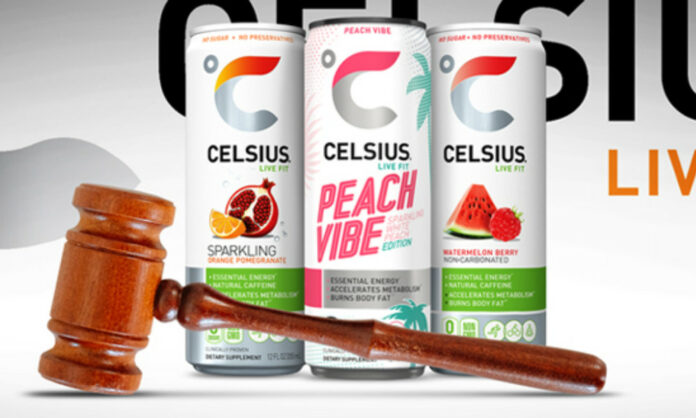 Legal News Reporter: Samuel Lopez, USA Herald
This is the case of Hammond v. Fieldly, et al., in the U.S. District Court for the Southern District of Florida.
Introduction:
In a shareholder derivative suit filed by Jennifer Hammond against Celsius Holdings Inc., the Florida-based energy drink company, allegations have been made against its top executives. The lawsuit asserts that improper accounting strategies were implemented to understate expenses associated with executive compensation. Moreover, it claims that Celsius' CEO utilized this situation to engage in an insider trading scheme.
Underreported Expenses and Illusionary Growth:
According to the complaint filed in Florida federal court, Hammond alleges that Celsius' executives intentionally underreported stock compensation expenses. This tactic was purportedly employed to present inflated earnings metrics, thereby creating the perception of substantial year-to-year growth. During the relevant period, several Celsius employees and directors departed from the company, leading to alterations in the vesting schedules for their share-based compensation. These modifications were made to comply with company policy but allegedly resulted in lower earnings metrics being reported compared to the actual figures.
Suspicious Insider Trading Allegations:
Jennifer Hammond's complaint also points to the Celsius CEO, John Fieldly, who is accused of capitalizing on the alleged accounting scheme. Fieldly allegedly sold 20,000 shares of common stock, amounting to $1.5 million, during the period in question. It is claimed that he utilized a 10b5-1 plan, an arrangement that allows insiders to sell shares at prearranged times. The complaint highlights the timing of Fieldly's initiation of the 10b5-1 plan, which raises suspicions about potential improprieties.
Unveiling of Material Errors and Financial Consequences:
The proposed class period for the lawsuit begins with the release of Celsius' second quarter fiscal year 2021 results. These reports indicated revenue and net income growth. However, Hammond alleges that these metrics were based on improper financial controls, which were later revealed. On March 1, 2022, Celsius announced a delay in filing its 2021 annual report and disclosed the identification of material errors in past financial statements, some of which were related to stock options for departing employees and directors. As a result, Celsius' stock price plummeted from $65 to $57.60 per share on March 3, 2022.
Reputation Damage and Legal Actions:
Jennifer Hammond claims that the defendants' alleged misconduct has damaged Celsius' business reputation. She seeks actual and punitive damages, as well as the disgorgement of profits obtained by the defendants during the purported scheme.
My thoughts on the case:
"This lawsuit raises serious allegations of fraudulent accounting practices and insider trading by Celsius' top executives. If proven true, it undermines the trust of shareholders and casts doubt on the company's financial integrity." – Samuel Lopez, News Reporter for USA Herald.
Conclusion:
The lawsuit filed by shareholder Jennifer Hammond against Celsius Holdings Inc. accuses the company's executives, including CEO John Fieldly, of engaging in fraudulent accounting practices and insider trading. The allegations revolve around the understatement of executive compensation expenses to create an illusion of significant year-to-year growth. The lawsuit highlights the financial consequences faced by Celsius and the potential damage to its business reputation.