At doses of more than 7 grams, a person may experience something called fatty liver degeneration. Other phenibut dangers, particularly when too much is taken, can include tonic-clonic seizures, delirium and unconsciousness.
In the FDA Inspections Compliance Enforcement and Criminal Investigations unit, Sleepwalker was cited in 2019 for illegally placing phenibut in its products:
[pdf-embedder url="https://usaherald.com/wp-content/uploads/2020/01/Sleepwalker-Energy-Shot-FDA-Warning-Letter.pdf" title="Sleepwalker Energy Shot FDA Warning Letter"]
Amazon appears to have banned the sale of Sleepwalker and apparently the Sleepwalker shot is no longer available on the Red Dawn website.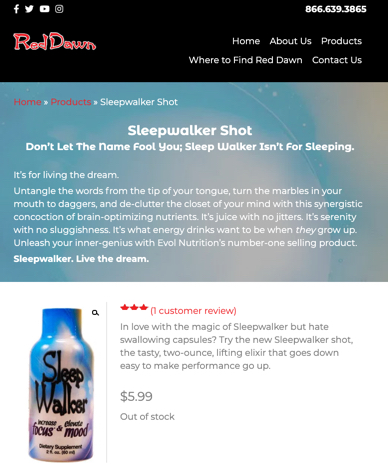 According to sources, thousands of consumers were sold the Sleepwalker shot in mainstream convenience channels such as RaceTrac, Casey's General Store, and Love's truck stops.    Due to the fact that phenibut is not allowed by the FDA in dietary supplements, insurance carriers are unable to write policies for sellers of the phenibut in dietary supplements, thus convenience channels may have to absorb the full liability of selling the phenibut infused in dietary supplements if a consumer is injured or a claim is made.