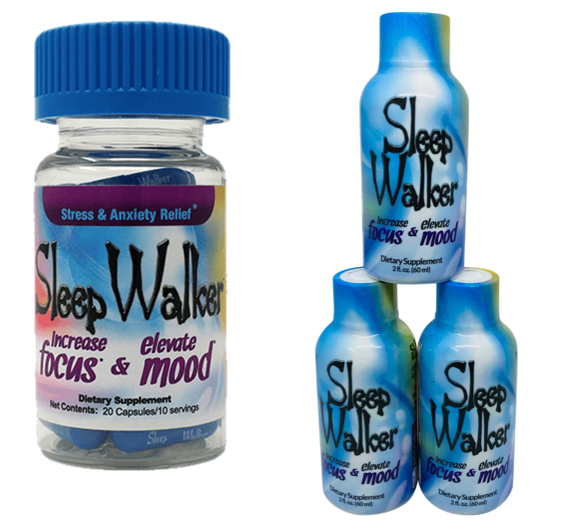 The Sleepwalker Shot, manufactured by Evol Nutrition Associates, Inc., was charged in a class action lawsuit alleging that the company sold products that the FDA disapproves of.
The lead plaintiff, Duane Womack, filed the class action lawsuit against Evol Nutrition Associates Inc. on March 24, 2021, in a New York federal court.
Evol Nutrition Associates, Inc. does its business under Georgia company, Red Dawn Energy and the Sleepwalker Shot.
The class action lawsuit asserts that the company sold products that contained ingredients unauthorized by the FDA.
In particular, the class action lawsuit questions the products sold under the Sleep Walker and the Red Dawn Liquid line because they might contain potential serious health risks for customers.
Here are some of the complaints the USA Herald has received from consumers since running our first article:
"My mother had a massive brain bleed on October 31, 2020. She was left severely disabled and has just recently regained the ability to coherently explain to me that she had been taking some supplement called "Sleepwalker" she bought at a convenience store. She says she had become addicted and had to take more and more. I just googled "sleepwalker" and came across your article by Catherine Davis, published January 10,2020. She suffered the equivalent of a massive stroke that should have killed her and left her with right side paralysis, expressive aphasia, 3 weeks in ICU and 6 months in nursing care. These pills need to be taken off the market." – Madison P.
"Hey my name is Brock and I have taken phenubit in sleepwalker drink several times until the last I drank one I purchase at a large retail store and had a began to shake and convulse causing my to wreck my motorcycle If u know someone representing people for the liability of the companies please let me know. I broke both wrists." Brock P.
Evol Supplements
Evol Nutrition sells health supplements that come in the form of liquid or pills. 
The class action lawsuit declares the company's supplements contain a chemical called Beta-phenyl-gamma-aminobutyric acid, also known as Phenibut.
Phenibut is a depressant used to treat anxiety. When consumed, it can have multiple side effects to consumers, including nausea, imbalance, fatigue, and dizziness. 
Aside from this, it can also cause individuals to feel the electric shock in their limbs.
According to the class action lawsuit, consuming the substance in high doses can cause significant health problems such as unconsciousness and difficulty breathing.
Additionally, Phenibut is highly addictive and can cause severe withdraw syptoms including votiting, heart attacks, and other major health related issues if a consumer suddenly stops taking it after growing dependent on it.
Evol Complaint

FDA Warning
In April 2019, the U.S. Food and Drug Administration (FDA) notified Evol Nutrition against their products' use of Phenibut. 
The class action lawsuit states that FDA informed the company that their health supplements were mislabeled because it did not indicate that they contained Phenibut. 
It did not properly notify customers about the possible side effects.
It adds that the use of Phenibut in products is also being investigated in Austria, Hungary, Italy, and Lithuania because of overdose and withdrawal reports from individuals who consumed it.
Plaintiff Allegations
The lead plaintiff argues that Evol Nutrition has falsely marketed the alleged products as safe health supplements.
However, the plaintiff argues that this is false because they contain Phenibut, which is not approved and authorized by the FDA. 
Therefore, the complainant argues that the company illegally sells products that contain Phenibut.
The class action lawsuit also claims that the company has not properly warned customers about the potential side effects and health risks of consuming the products.
The lead plaintiff complains that he purchased the product Sleep Walker because it claims that it can provide an energy boost. 
Nevertheless, the complainant attests that this is false, and he experienced the side effects of the product after consuming it, including nausea, fatigue, and dizziness.
He adds that aside from being unapproved by the FDA, there was no scientific evidence that consuming Phenibut can cause significant gains for consumers and be used in supplements. The substance was allegedly used as a recreational drug.
Duane Womack maintains that the regular consumption of Phenibut can also cause drug dependence.
He adds that consumers who would stop using it can undergo withdrawal symptoms, such as anxiety, agitation, muscle aches, seizures, and sleep troubles.
If the company has properly informed customers about the potential effects, the class members assert that they would not have bought the product.
Consumers Complaints of Hospitalizations from Withdraw due to re-labeled Sleepwalker Shot
After the FDA sent a warning letter last year to the Sleepwalker shot, Evol Nutrition re-labeled the Sleepwalker shot without warning consumers that had become addicted to it.
Phenibut is highly addictive, thus when Sleepwalker re-labeled their product without notifying consumers of the removal of Phenibut, many consumers that were addicted to the Phenibut in Sleepwalker ended up relapsing on other drugs (they couldn't get the high they were getting from the illegal Phenibut infused Sleepwalker shot) and others had major adverse reactions, according to complaints online from consumers.
Editor's Note on the Sleepwalker Shot Class Action Lawsuit:
This article is published to inform you of the latest class action lawsuit filed against Evol Nutrition for allegedly selling products not authorized by the FDA.
What are your thoughts on this piece? Have you bought products containing Phenibut? 
Please send us a message or leave a comment below.